The Disney Project is pleased to announce the details of our second in-person Disney fan event.
"An Interactive Evening with Jerry Rees"
will take place on Saturday, November 14, 2015.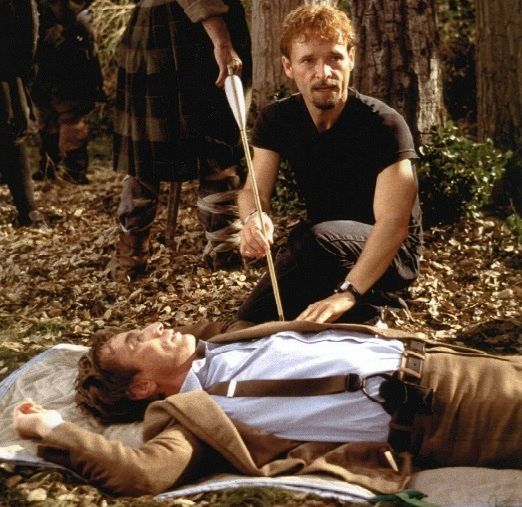 Jerry with Martin Short on the set of CinéMagique
Location: Variety Screening Room
The Hobart Building
582 Market Street (at Montgomery)
San Francisco
7-10p (doors will open at 6:30)
Jerry Rees is a writer, director, animator, and storyteller in all media. Some of you know him as the director of
The Brave Little Toaster
. Some of you know him as the director of
Disneyland: The First 50 Magical Years
starring Steve Martin and Donald Duck. Some of you read about Jerry in the recent Vanity Fair article "
The Class That Roared
", covering the famed class from CalArts. If you're a Disney fan, it's likely you have enjoyed his work at some point.
Jerry's impressive resume runs the gamut of creative wizardry, from visual effects supervisor on the original TRON, to trans-media director on Mystic Manor in Hong Kong Disneyland. He's also directed such past and present favorites as: Cranium Command, Alien Encounter,
CinéMagique
, and more. All told Jerry has served as director for nearly 20 Disney attractions. His talents are currently being utilized at WDI as a PH Executive Research & Development Imagineer.
The evening will consist of two presentations. The first will be by Keith Gluck (writer, Disney Historian, proprietor of The Disney Project), and the second by Jerry. The title of this event refers to both programs, and here's how:
Program #1: Keith Gluck - Choose Your Own Adventure!
Ticket buyers will have 4 or 5 different programs to vote on prior to the evening of the event. Whichever program gets the most votes, wins.
Choice 1:
The Evolution of the Disney Dark Ride
(learn fun facts about Disney dark rides, from Peter Pan to Mystic Manor)
Choice 2:
A World of Disney
(you know the U.S. Disney Parks, but in this program we chat about the international Disney Parks)
Choice 3:
Walt's Main Street
(learn about how Main Street was in Walt's day, when he walked it himself)
Choice 4:
The Disney That Should've Been
(wanna know more about cool projects like Mineral King? Western River Expedition? Then this program's for you)
Choice 5:
Wild Card
(before tickets even go on sale, suggest a topic! The one we like most/have the most info on will be added to the choices - email your idea to: questions[at]thedisneyproject[dot]com.
Program #2: Jerry Rees - My Life Imagining and Imagineering
Join Jerry as he discusses just a few of his
many
experiences working with Disney over the years.
Jerry is both extremely knowledgeable and personable, and he wants his program to feel more like a conversation and less like a lecture. So questions and comments during his talk are encouraged! (note: questions may be moderated by Keith if time constraints require).
Side note: Keith is also knowledgeable and personable, but not as much as Jerry, therefore questions regarding his program will come after. :)
The evening will also include an original short film, light refreshments, and a no-purchase necessary raffle. Exact pricing and ticket options are still being finalized, however tickets will go on sale on
Wednesday, September 16
. Be sure to check thedisneyproject.com for updates (or follow
The Disney Project on Twitter
).
Thanks and we look forward to seeing you in November!
---
The Variety Preview Room and Event Space is a private movie theater, meeting space and lounge owned and operated by Variety Children's Charity, a non-profit organization serving the needs of children throughout Northern California since 1947. Proceeds gained from the Variety Preview Room fund Variety's programs serving children challenged by physical and mental disabilities, poverty, abuse and neglect. www.varietync.org