Remember that show Battle of the Network Stars back in the 70's and 80's? Well try to picture that right now if you will, only with less polyester. And replace the "stars" with blogs. Okay go.
Over the Labor Day weekend I had a lovely time with some East Coast Disney friends in Walt Disney's original Magic Kingdom. While they had never been to Disneyland, they are all seasoned Disney World vets, so I did my best to give them the tour without giving them information they already knew ("and here we have Disney's FASTPASS which allows you to return to the ride at a later time…"). Everyone but me was registered for the Disneyland Half Marathon on Sunday the 4th. Why wasn't I? Because I missed the registration deadline (sad face). A mistake I did not repeat for the Wine and Dine Half Marathon this October 1st.
Throughout the weekend I got some really good running and training advice from my friends, in between discussions over whose home park had the better Dole Whip (answer: Disneyland), and having to defend Disneyland's "tiny" castle. But Disneyland vs. Disney World is still Disney, which means it is quite possibly the friendliest "rivalry" in existence. Debating about the taste/consistency of that delicious little pineapple flavored non-dairy soft serve ain't exactly 2pac vs. Biggie. But let me tell you what is.
One Miss Jenn, aka owner and proprietor of the blog
eatsleeprundisney
, went ahead and shattered her personal Half Marathon record that weekend, finishing it in 2:09. She came into
DisneyProject's
house and crushed his half marathon time from 2007. So what if that was his first ever race, he only trained two weeks for it due to an injury, and the high was 104 degrees that day? This would not stand! It's on, kids.
It's a battle to the death! Or until somebody gets really tired.
This thing could go either way. I know guys are supposed to be faster, but Jenn is a machine. We ran the Wine and Dine together in 2010 and actually finished with the exact same time, crossing the finish line together. I have run exactly zero races since then, while Jenn has run what, 50? But then again she is not a huge fan of night races, while I prefer them. It's anyone's game!
Either Jenn noticed the photographer, or she was really happy for 13.1 miles
The stakes
No money. No meals at Victoria & Albert's. No complete sets of Vinylmation. Just pride. Pride, and the winner getting to Captain Morgan the loser in front of Spaceship Earth. So if all goes well, boys and girls, you will be seeing an image similar to the one below come early October!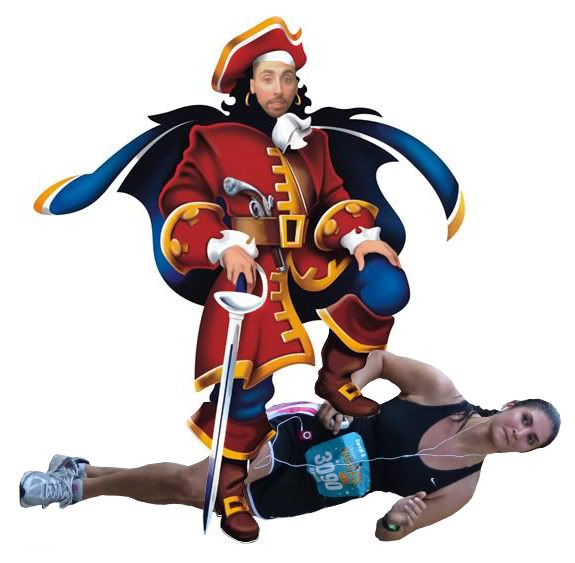 How's my hair?
So watch out,
DisRunner
. The guy with the smaller theme park but superior Dole Whip is coming for you!
-Keith
(ps – If any of my dozens of readers wish to place bets on this epic battle, the smart money is on Jenn)