The 2011 Wine and Dine Half Marathon in Disney World already had a huge advantage over its 2010 counterpart hours before the race ever began: Weather. Some kind of temporary cold front moved in (and by temporary, I mean just in time for the race, and would move out just as fast) and dropped the temperature several degrees. I'm not sure of the exact temperatures, but it felt a full 10 degrees cooler at race time this year over last. And I don't have to tell you, that's huge. Wait, I guess I just did tell you. Sorry!
The runners were treated to a little pre-race entertainment by a DJ who actually got some of them to engage in synchronized dancing. I opted to hang out with my Disney friends and wait in line to get my picture taken with Mickey. The line was long but we had a good two hours before the race, so we had time.
Sayin' cheese with the Big Cheese
After posing with Mickey a few of us got together for a group shot.
From the left: Lisa, Megan, Collin, Adam, Daniel, Me, Jenn, Patrick, Danielle
My friend Patrick and I had to show off our super cool compression sleeves (which I have him to thank for). If any of you were on the fence over whether or not to buy a pair, allow me to clinch it for you. They are awesome.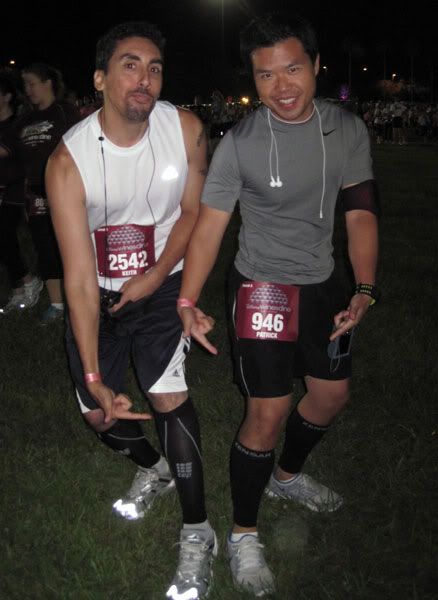 Watch out Zoolander, part-time shin models comin'!
And of course, one last trip to the little boy's room before the race.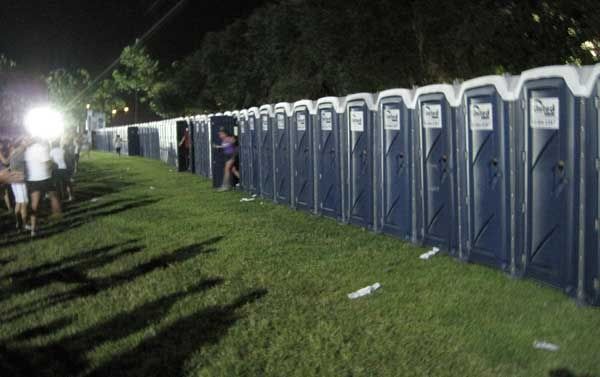 Lotsa potties
Race time. We were instructed to head to our corrals. I was in corral B, but felt like I probably should have been in A, which was where most of my friends were. I walked with them towards the entrance to A, but decided to opt-out when I noticed that there was TSA-rivaling security in place preventing any unauthorized entries. Cue the sad Charlie Brown music, I lowered my head and dragged my feet over to B. At 10pm the race began for A, then about five minutes later, it began for B. I tried to snap a pic, but it came out blurry. Here it is anyway!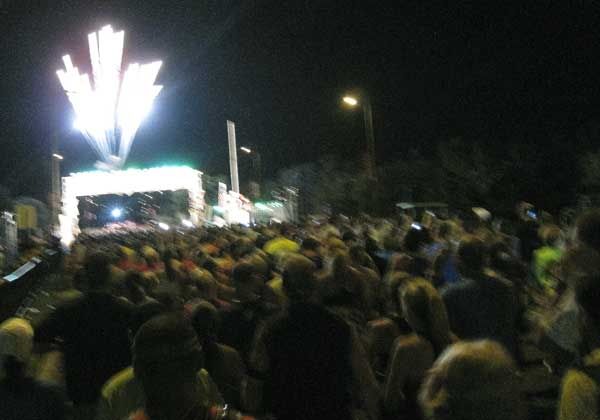 I was pretty far back
That will be the last race pic you'll see from me. I realized pretty quickly that not tracking my pace was a bad idea. My first mile took 11 minutes, mostly because I had to weave through the mob of runners like it was Black Friday at Toys-R-Us. I decided to speed up a little after I had cleared the crowd, but I sped up too much, accidentally running the second mile in seven minutes. At that point my focus became running a nice consistent pace throughout.
The course was pretty much the same as last year. The starting point was the Wide World of Sports Complex, and from there we ran three miles to Animal Kingdom. Along those first three miles the entertainment was pretty slim. There was one live band and a handful of random characters. It was good to finally get to Animal Kingdom so there would be stuff to look at. The bad thing was the way they routed us in caused a bit of a bottleneck by the bus stop. It eased up however upon entering the park. I noticed in some of the darker areas instead of huge standing light spheres they positioned smaller egg-shaped lights across the ground, which was kind of cool. I am not a huge fan of Animal Kingdom, but it is pretty neat seeing it at night, especially Everest. We made our way through the roughly two-mile stretch through the park, and then it was on our way to Hollywood Studios. We had to be careful after exiting AK, because that was where the relay transition point was. The half-marathoners stayed to the left while the relay runners veered right. At this point there was another three miles of just road. There probably was some sort of entertainment along that stretch but I can't seem to recall what it was. This was the halfway point of the course and I personally was trying to convince my adrenaline to kick in already. For me that was probably the toughest portion of the race.
We finally made it to Hollywood Studios right around mile nine. Again it was great to be able to have stuff to look at, and get a few more onlookers cheering us on. It was this point last year that I had to stop and walk for a good half-mile, but not this time! It was probably the better eating habits on race day, and the cooler weather. This time I didn't stop at all during the DHS stretch (I only stopped once the entire race to work out a hammy cramp), not even during the Osborne Lights. I posted some shaky video of the lights last month.
In case you missed it…

The run through Hollywood Studios was long. By the looks of the map it was just under three miles, but it felt longer. I still have never seen Lights, Motors, Action!, but I always enjoy running across its main floor. This year they had Lightning McQueen down there flashing his pearly whites at us. After finally making it through Hollywood Studios there was just a little over a mile to go. This is where we got to run along the body of water that connects Hollywood Studios with Epcot (I know the lake by the Beach Club is Crescent Lake, but is it Crescent Lake all the way to Hollywood Studios?). There were more spectators holding signs and cheering us on near the Boardwalk, and it was much appreciated. After crossing the bridge over to the Yacht then Beach Club, it was home stretch time! The signs I noticed were: Only 400 Yards to Go, You Just Burned off 1300 Calories: Time to Party, and AllEars Deb was holding up an AllEarsNet sign. After climbing that little hill between the Beach Club and the International Gateway, that was it. Or was it?! I had totally forgotten that they changed the finish line from last year. It was no longer out in front of the International Gateway, but around to the front of Epcot. Gah! Okay so just a little longer yet.
That last little bit took longer than I wanted it to, but then again even 20 feet was too long for me by that point. We were routed through the backstage area and came out just outside of the entrance of Epcot. I was fortunate enough to cross the finish line by myself (unlike last year when some guy ran in front of Jenn and I at the last second), so I got a pretty cool finish pic and the announcer said my name as I crossed. The actual race is always hard but as you cross that finish line it always seems to be worth it.
After the race I caught up with my friend Jenn, and we decided to pose for a few pictures, since doing anything else at that point sounded way too exhausting.
The character spot was open too!
Chef Pluto!
And Chef Goofy!
The After Party this year was 10 times better than it was last year. RunDisney really listened to all of the complaints, because while last year the lines for the food booths were 50 people deep, this year they were much more manageable. My friends and I sampled some food with the 10-dollar gift cards we received as part of our runner's package (another great idea, since not all of the runners wanted to stay for the after party, and last year we were given vouchers that expired that night). A few characters were also in World Showcase that night.
We sampled some food, talked about our respective race experiences, and at 2:59am ran (or our version of running by that point) to Test Track and were the last ones on for the night.
As far as Disney races go this one is my favorite. I admit to being biased though, because I love Epcot and I prefer running at night. But if you have never done a Disney race and have been thinking of trying one, I definitely recommend trying the Wine and Dine Half Marathon.