Trip Report
Get ready for some pictures! While my recent trip to Walt Disney World was specifically to see the Carousel of Progress event put on by
allears.net
, it was also my first time visiting in December. Christmas was of course in full swing, and before I post my recap about the event, I thought I would share some of the many Christmas-themed pictures I took while down there. Enjoy!
Magic Kingdom and Area
View from the Contemporary
Wilderness Lodge reindeer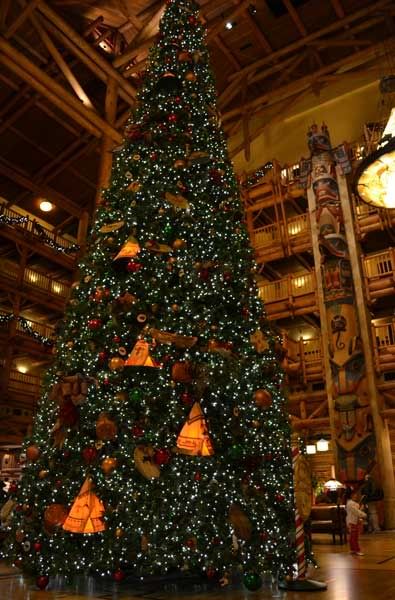 Wilderness Lodge tree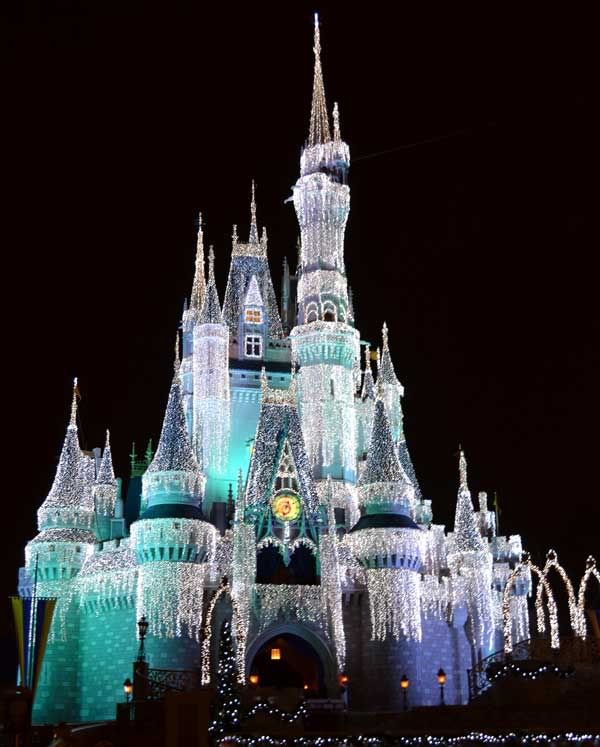 Cinderella's Castle
Disney's Hollywood Studios
The Hollywood Studios tree
Sunset Boulevard
Osborne Family Spectacle of Dancing Lights
More Osborne Lights
San Francisco Street during Osborne Lights
Epcot Area
Gingerbread Carousel at the Beach Club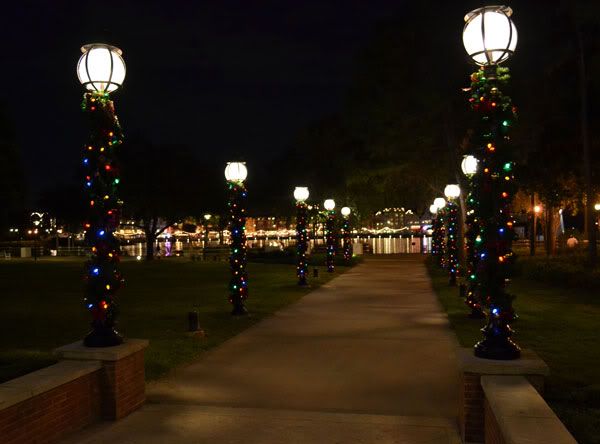 Walkway from the Beach Club towards Crescent Lake
Epcot - Future World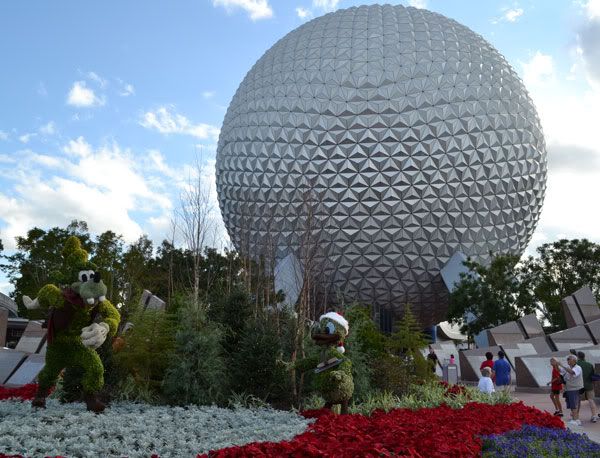 Spaceship Earth
Mouse Gear
Pluto behind the Fountain of Nations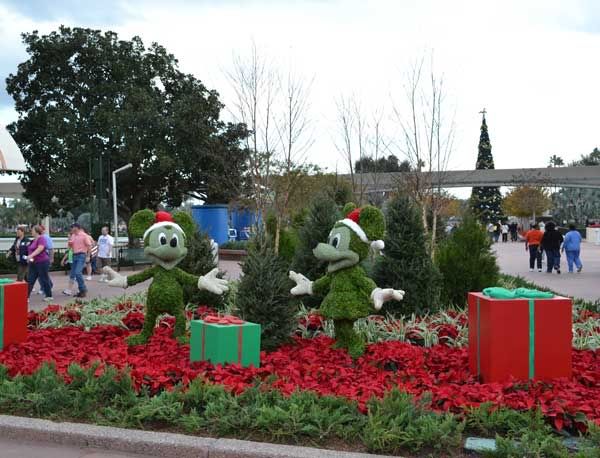 Mickey and Minnie, across from Pluto
Epcot tree at dusk
Epcot - Holidays Around the World - World Showcase
Mexico: Los Tres Reyes Magos (the Three Kings) as they tell of their journey to the Posada and traditions today.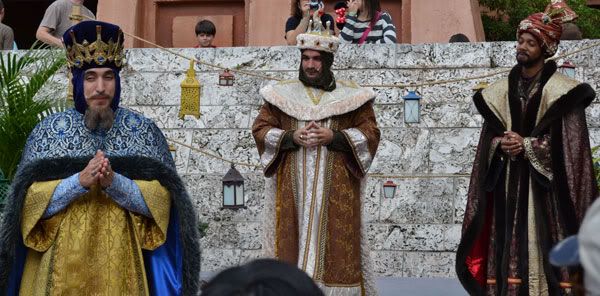 Los Tres Reyes Magos
Norway: The storyteller Sigrid who will tell you of the mischievous Christmas Gnome, Julenissen.
The Fjording, next to Maelstrom
Germany: Helga tells the story of the first Christmas tree and the tale of her first Nutcracker.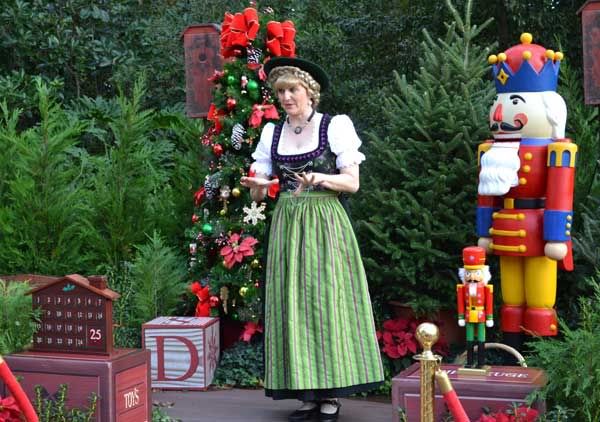 Helga


Germany Pavilion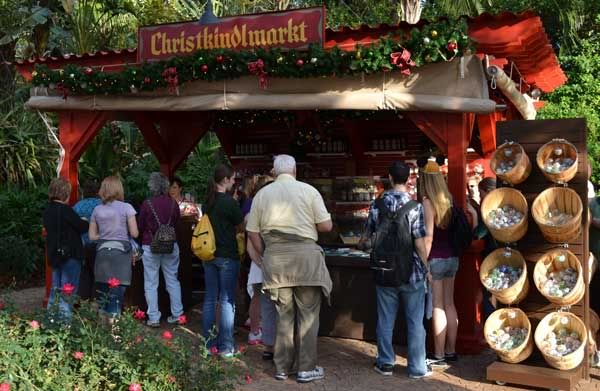 Christmas stand in Germany
Pickle tree!
Pinocchio ornament
Italy: Italy's good Christmas witch, La Befana, remembers the Epiphany and her first Christmas 2,000 years ago!
I didn't get to see La Befana, but I did snap a quick pic of the Pavilion.
Italy
American Adventure: Kwanzaa: Experience the spirit of Kwanzaa, a celebration of family, creativity and community.
Kwanzaa
Santa Claus and Mrs. Claus.
Hi Santa!
Voices of Liberty
Morocco: Taarji, as he celebrates the customs of Ramadan and Ashura.
Taarji
France: Père Noël shares a letter from a little girl that recreates the magic of Christmas through the eyes of a child.
Père Noël talks about filling a shoe with treats
United Kingdom: Jolly Father Christmas makes traditions from Christmas past just as fun today!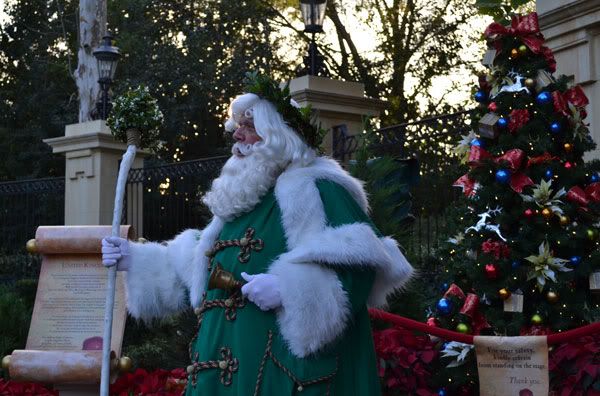 Father Christmas
The Crown and Crest Shop gets festive
Canada: Nowell, a Canadian lumberjack, tells of his journey to find Santa at Christmastime.
Sadly I was unable to catch Nowell's performance. So I just snapped a pic of his stage.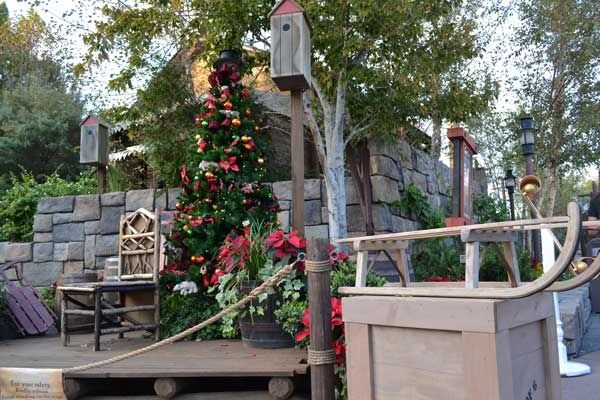 Canada
Japan and China didn't offer Christmas-themed performances. Theirs revolved around New Year celebrations.
Also, IllumiNations had a special Christmas-themed ending. You can't tell by the pic, but most of the fireworks at the end were red and green, and it was very cool.
If you have never been to Walt Disney World during Christmas, I definitely recommend checking it out. The parks are beautifully decorated, you can see several Christmas-themed performances (without paying extra), and you even learn about how other cultures celebrate the most wonderful time of year. It was slightly chilly, but by no means freezing. December is possibly the time Disney World is at its prettiest, and I was happy to finally get to see it.