Walt Museum
On Saturday, February 18th, I attended a presentation at the Walt Disney Family Museum titled, "And the Award Goes to... Walt Disney." This particular presentation focused on Academy Awards won by Walt Disney himself, and not the ones by the Disney Company (because frankly, the Museum is only open until 6pm). It was hosted by creative juggernaut/friend of the Walt Disney Museum/friend of The Disney Project, Mister Jeff Kurtti.
Walt Disney Family Museum, largest display of Oscars outside of Hollywood
To this day Walt Disney owns the record for most Academy Awards won by an individual, with a total of 32. To put that into perspective, Cedric Gibbons is in second place with 11. Walt's Award road began in 1932, when he took home the statue for the animated short
Flowers and Trees
(which Jeff screened for us).
Flowers and Trees
was the first animated film to ever win the Award, in the first year the category was added. In fact the Academy specifically added that category to honor Walt's work. Walt's odds were good that year, since he produced 2 of the 3 films nominated (
Mickey's Orphans
, with Mickey voiced by Walt, was the other). In addition to winning for
Flowers
, Walt took home a special Award for the creation of Mickey Mouse.
Also in 1932, Walt Disney provided the Academy with a humorous little short to be shown at the Awards banquet, titled
The Parade of the Award Nominees
. Besides featuring that year's acting nominees, the short is a milestone in that it was the first time Mickey Mouse ever appeared onscreen in color, a whole three years prior to 1935's
The Band Concert
.
The next Award ceremony wasn't until 1934, and it was then that Walt was responsible for another first. At that time only Hollywood insiders referred to the Award statue as an "Oscar," and it was considered to be somewhat of a derogatory term. After Walt won for
The Three Little Pigs
, he was the first one to publicly refer to the award as "the Oscar," doing so in his acceptance speech. Walt would go on to win consecutively all the way up until 1940. In that time span he produced yet
another
first. In 1937, he was the first person ever to present himself with an Oscar. Jeff showed us another short from that impressive run, 1938's
Ferdinand the Bull
(which I hadn't seen in ages). The year after
Ferdinand
, Walt was presented with a special Award for
Snow White and the Seven Dwarfs
, recognizing the film as a significant screen innovation. The Award consisted of one big Oscar and seven little ones. The presenter was a 10-year-old Shirley Temple, who later admitted to being a little upset over the statue's design. She felt that the big statue was for Walt, the little statues were for the dwarfs, but where was the one for Snow White? After admitting this many years later, she added, "I was ten."
In 1941, Walt was given the prestigious Irving G. Thalberg Award. Per the official
Academy website
, "
The Irving G. Thalberg Memorial Award is voted by the Academy's Board of Governors and is presented to "creative producers whose bodies of work reflect a consistently high quality of motion picture production.
" As Jeff pointed out, at that time Walt's body of work consisted of several shorts, but only a handful of features. Overcome by emotion, Walt wept as he accepted the Award.
During World War II, the Disney Studios joined the war effort and churned out several American propaganda films. Released in 1942,
Der Fuehrer's Face
took home the best cartoon short Oscar in 1943. The film features Donald Duck living in "Nutziland," being subjected to horrible food and slave labor conditions while working on bullet and bombshells in a factory. If you haven't seen it, don't fret. It does have a happy ending. It was originally titled "Donald in Nutziland," but the song "Der Fuehrer's Face" by Spike Jones had become so popular (it
is
quite catchy), the cartoon was renamed to match. Jeff showed it to us, and it is so good, I want to show it to you.
After 1943, Walt was nominated every year for the rest of the decade, but didn't win until 1949 with
Seal Island
. Island, a short documentary, took home the Oscar for Best Short Subject, Two-reel. Two years later he started another winning streak, stretching from 1951 until 1956. In 1953 Walt won for
Water Birds
, and host Bob Hope cracked a little joke after Walt's win, which can be heard in the short video below.
Bob Hope, an Oscar record-holder in his own right (having hosted 18 times), was never without a witty comment about Walt's Oscar dominance.
In 1954, Walt received an amazing six nominations. He was quite modest however, telling his wife Lilly that she might as well stay home that evening since he probably wasn't going to win any anyway. He won four, setting a record that still stands to this day. When he got home Lilly was so upset she refused to let him into the house. Walt slept in his office that night.
A happy Walt, before he found out where he'd be sleeping that night
The following year Walt won for producing the feature documentary,
The Vanishing Prairie
. That same year Walt Disney Studios won the best special effects Oscar for
20,000 Leagues Under the Sea
. Walt was on hand to accept the award, and on his way off the stage Bob Hope remarked to the audience, "I wondered why he drove up in that truck."
At the end of the presentation Jeff gave us one final treat. He screened the 1959 Oscar winner
Grand Canyon
in its entirety. I had never seen it before, and was delighted when I heard Ferde Grofé Sr.'s score, "The Grand Canyon Suite." I instantly recognized it from the
Grand Canyon Diorama
, located along the Disneyland Railroad between Tomorrowland and Main Street, USA. That would be the last Oscar Walt would personally win in his lifetime. His final Oscar came in 1969 for
Winnie the Pooh and the Blustery Day
, three years after his passing.
After the presentation Jeff answered a few questions, and was not surprised when I asked for a photo. We had a pretty good idea where to pose this time.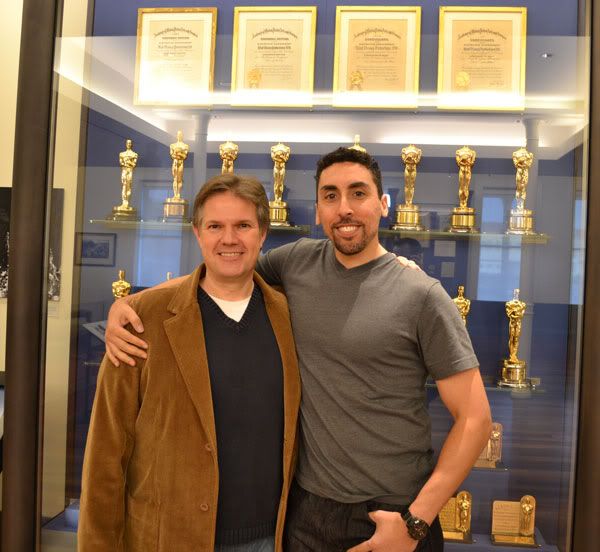 Thank you Jeff for the stories and insight on just some of the many Oscar-winning films produced by the greatest creative genius of all time, Walt Disney. It seems no matter how many books I read about Walt, I'm always learning something new about him.