So in keeping with the theme of my last two posts, I felt that I should make my first post since my weekend trip to Disneyland about the good ol' Matterhorn. It is currently down for refurbishment until June, so I snapped a few pics of its progress.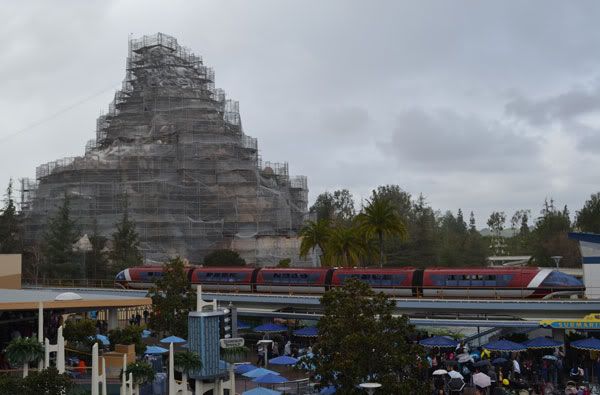 All covered up
Workers playing roshambo to see who goes outside next
The biggest change will be the seating arrangements, thanks to brand new bobsleds. People who prefer lots of personal space will no longer have to demand their own bobsled. Disney is doing away with the "snuggle system" in favor of sleds that contain three individual seats (much like Space Mountain in Walt Disney World, although I hope with more leg room). This is a great move in terms of ridership as it will cut down on the number of single riders and help move a line that probably won't have FASTPASS any time soon. The more confined sled space will probably also cut down on the rockiness of the ride, although I have to admit that's one of the things I love(d) about the Matterhorn.
Also, on display were a few posters containing cool pictures and tidbits about the famous first E-Ticket attraction. Hopefully you learned from one of my last posts that the ride was built thanks to one of Walt's trips to Switzerland while he was checking on the filming of
Third Man on the Mountain
. If you missed that,
check it out
! The posters also feature several more great pieces of information, such as:
-When the mountain received its first abominable snowman
-Some of its more colorful climbers (hint: ho ho ho)
-A clever "rumor" about whether or not there is actually a basketball hoop in the top of the Matterhorn (spoiler alert: there is)
Below are photos of all the posters. I tried to make them a good size while still maintaining quality and a reasonable load time. Click on any image for a larger version. If anybody wants a copy of any of the original
full-size
image(s), feel free to email me (my email can be found in the
About
section).
Per Guest Relations, the Matterhorn is currently due to re-open on June 15th, 2012.