Walt Museum
On Sunday, January 29th, I attended a presentation at the Walt Disney Family Museum titled "Perilous Assignment: The Making of Third Man on the Mountain," hosted by one Jeff Kurtti. I hope my readers know Jeff by now, but for those who don't, he was the Creative Director at the Walt Disney Family Museum. He is also a
prolific author
, an accomplished producer, and an all-around good guy. Since we touched upon
Third Man on the Mountain
in my last post, I wanted to learn more about the making of what film writer Karl Holzheimer called, "The best live-action Disney film you've never seen."
Mountain
is based on the 1955 Newbery Honor book, "Banner in the Sky" by James Ramsey Ullman. The book is based on the true story of Rudi Matt (played by James MacArthur), a sixteen-year-old boy who wants nothing more than to climb the mountain that claimed his father's life fifteen years prior. The problem is The Citadel (Switzerland's Matterhorn in real life) is the most dangerous mountain in the Alps.
Walt loved Switzerland and took many trips there. In 1955, Switzerland was the subject of one of Disney's "People and Places" short documentary series, being the first episode to be shown in CinemaScope.
Cover of the soundtrack for Switzerland
Walt felt
Mountain
would be fun for young people. He was disenchanted with some of the cinematic choices that featured them, feeling the films painted a picture of delinquency. "I don't think they show a true picture of young people today," Walt said. "Despite all the publicity about delinquency, America's youngsters are a pretty good lot." The film's stars had no previous climbing experience, and had to take a two-week crash course in mountaineering. MacArthur, already in good shape, became pretty good at it. So good in fact, he sneaked off one day and actually climbed the Matterhorn, much to the dismay of the studio's insurance people.
Well-received by critics, it is somewhat of a mystery as to why the film didn't perform better at the box office. Jeff pointed out that an adventure film abundant with real climbing scenes might have turned off 50% of the audience: women. "My wife wouldn't look at it," producer William H. Anderson said. And during the film's screening, Mrs. Disney was heard saying, "Tell me when the climbing is over."
Third Man on the Mountain
took three months to shoot. And in Walt's introduction of
Assignment
, he stated, "We were only going to make the film if we could film it in its actual locale." Don't hear many filmmakers say that these days.
Perilous Assignment
Perilous Assignment
originally aired on November 6th, 1959 on the TV series
Walt Disney's Wonderful World of Color
. After Walt's introduction, we were introduced to Gaston Rebuffat, a French mountain guide. In those days it was very uncommon for an outsider to become an official guide of the Alps. That speaks to how talented he was. He would go on to serve as
Mountain's
guide and second-unit director.
Assignment
was promoted as an in-depth study of the art of mountain climbing, but some felt it was more of an hour-long commercial for the soon-to-be-released
Mountain
. I felt it was a little bit of both. Sure they threw in some behind the scenes footage of the filming of the movie, but there were also a few pretty detailed lessons on how to properly scale a mountain. In fact I will have to steal the tag line from
Mountain's
promotional poster and say the climbing footage was
BREATHTAKING
. Some of the maneuvers Rebuffat performed were simply amazing, as he was accompanied by his much less-skilled yet determined companion, Maurice.
Highlights from Assignment:
-The production used the town of Zermatt as its initial base. Motorized vehicles have been banned there since 1947, so Disney had to obtain special permission to operate some in order to transport equipment and supplies. The four-wheel drive vehicles they used were called Unimogs.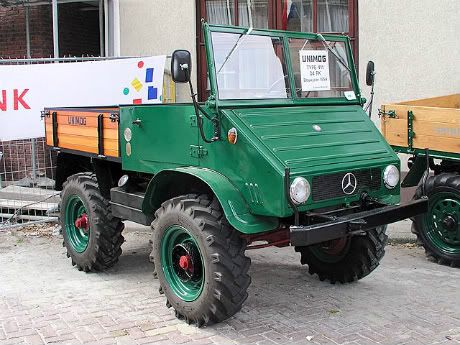 Late 50's Unimog
-As the Unimogs climbed towards the Matterhorn, some narrow passages had to be widened by tearing down fences that flanked the road. The only reason most residents tolerated it was because they were promised the fences would be completely restored after filming.
-The production set up base camp where the Unimogs could go no further, the base of the Matterhorn.
-Film crews, who were not trained in climbing, had to traverse barely traversable terrain while carrying heavy boxes of equipment (although they did add that they never would have been able to transfer all of the equipment from the base camp to the shooting location without the help of mules).
-James MacArthur was personally "chauffered" to base camp via helicopter by Hermman Geiger, one of Switzerland's most famous rescue pilots.
-Even though they received helicopter rides to base camp, the stars of the film were hardly prima donnas. Stars MacArthur and Michael Rennie also helped carry equipment.
As a fairly active guy I have to confess that after watching
Assignment
I actually began considering giving mountain climbing a try. The sport however is as equally dangerous as it is exhilarating. Current and future climbers should heed these words of wisdom from Edward Whymper, the first man to successfully scale the Matterhorn way back on July 14th, 1865: "Climb if you will, but remember that courage and strength are nought without prudence, and that a momentary negligence may destroy the happiness of a lifetime. Do nothing in haste, look well each step, and from the beginning think what may be the end."
I think I will just try some indoor rock climbing for now.
After the presentation it was business as usual for me, which meant harassing the presenter for a photo. Ever accommodating, Jeff was happy to oblige. We even mixed it up this time.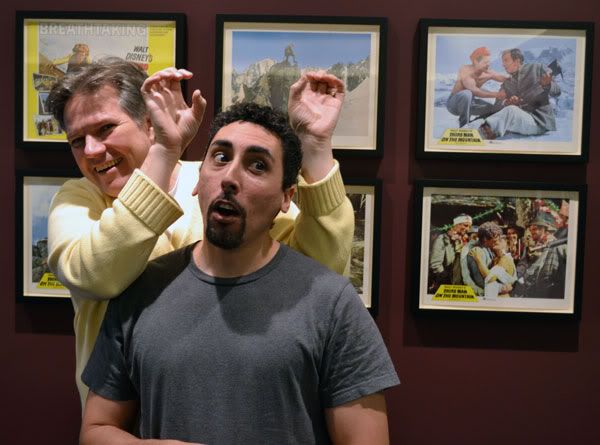 I think I like these Mickey Ears even more than my gold Disneyland's 50th pair!
Thank you Jeff for the great information before
Assignment's
screening, as well as your willingness to stick around afterwards to answer our questions. My lame question of, "Do you think they named the characters in
Beauty and the Beast
after Gaston and Maurice in
Assignment
?" was met with the polite response, "I think those were just popular French names of those days, Keith."
Good point, Jeff.
For any of my readers who live near or plan on being in the Bay Area on February 18th, Jeff will be back at the Museum giving a presentation about the history of Walt's many Academy Award winning films!