The Disney Project sits down with Lonnie Hicks, cast member extraordinaire at The American Adventure (pavilion and show) in World Showcase, Epcot. We learn things like why the pavement is curved between the France and Morocco pavilions (it represents the Strait of Gibraltar), to what exactly is he doing with that little light at his podium during the beginning of the American Adventure show (he's keeping track of the show's attendance). Because Lonnie is basically a font of knowledge, the "quick" interview I had planned lasted close to 30 minutes. It has been condensed for your reading pleasure.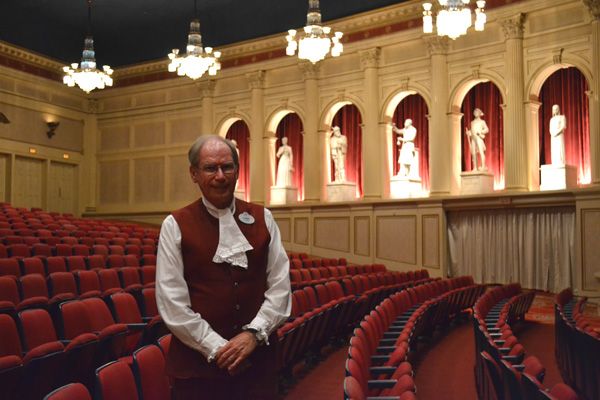 Lonnie
TDP: Hi Lonnie. Where are you from?
Lonnie: I'm from Southern Illinois. A town called Mt. Vernon. Not to be confused with Mount Vernon, Virginia, which is George Washington's home.
TDP: How long have you been a cast member at Walt Disney World?
Lonnie: I have been here since 2002, although I've been with the company over 16 years. While I was still in education in Southern Illinois, I worked at The Disney Store in downtown St. Louis. When I retired from education I stayed with the company and transferred my time down here.
TDP: What prompted you to become a cast member?
Lonnie: Well I pinch myself sometimes to realize that I'm the same little boy that used to watch Uncle Walt on TV back in a small town in Southern Illinois in the 50's, and now I'm here, a part of all this.
TDP: Have you ever visited Marceline?
Lonnie: Yes sir I have. If you look in the reconstructed barn, you'll see there are autographs all over. Mine's up there as well.
TDP: I did an autograph too! So you already alluded to it earlier, I was gonna ask because of your vast knowledge: Are you a former History teacher?
Lonnie: No, retired librarian. As a librarian you're sort of like Velcro, you pick up bits and pieces of all sorts of things.
TDP: What got you started as a cast member at The American Adventure?
Lonnie: This is where I was assigned. I could have been placed anywhere, but I think maybe they checked around and thought, "Maybe this would be a good fit." It's almost like I knew Ben Franklin personally. Which I really didn't.
Lonnie doling out some pre-show goods
TDP: Most people know that Will Rogers was originally slated to be the third host. Let's say Disney came down and said they were going to add a third host, and they wanted your input. Who would you suggest and why?
Lonnie: Well let me explain why they didn't choose Will Rogers. According to an interview with the original show producer, Randy Bright, they did a survey with college History students, and a lot of them had no idea who Will Rogers was. He died, unfortunately, in a plane crash, so his influence did not carry on. But at the time he was quite influential. He had a radio show, a newspaper column, he was a movie star, was friends with presidents, and as a matter of fact he and Walt Disney played polo together. In fact after he died in that plane crash, Walt was reluctant to fly in a small plane for a long time. So anyway, they felt that he (Rogers) was not a strong enough figure to go on into the 20th century. If you pay attention closely to the show, you'll see they start using radio announcers, voice-overs, a newsreel announcer, that kind of thing. So, actually, I think they made the right decision by not going forward with a third host.
TDP: Do you ever get to hang out in the VIP lounge upstairs?
Lonnie: When Epcot first opened, the pavilions were sponsored by businesses or corporations. Everyone had a VIP lounge for them to come with their guests. When this pavilion (American Adventure) first opened it was co-sponsored by Coca Cola and American Express. They had offices up there, and they could also use that area whenever they had special guests visit. They have dropped their sponsorships, so now Special Events has taken it over, and they rent it out for receptions, banquets, parties.
TDP: For those who have never seen The American Adventure, what would you like them to know about it?
Lonnie: Well first of all, it is not the Hall of Presidents.
TDP: (laughs)
Lonnie: Second of all, it is not a movie. A lot of people come up expecting a movie, and I say, 'No, it's a stage play.' I'm very emphatic on that. I describe to guests when they come up that they'll sit down in a 1,000-seat auditorium, the curtain goes up, and onstage you have scenes of United States History, performed by audio-animatronic actors.
American Adventure Pavilion--Epcot
TDP: Besides the American Adventure pavilion, do you have another favorite pavilion here in World Showcase?
Lonnie: I think one of the prettiest ones is Morocco. When you walk back in there, you lose sight of the rest of the park, especially in the evening with the lamplight and the shadows. It really feels like you may be on a street in Marrakesh or Casablanca. One reason I think it's so particularly beautiful is because when it was being built, King Hussein sent over about two dozen artisans to do all the elaborate mosaic and plasterwork. It's very pretty, and very authentic.
TDP: What would you say is the best thing about being a cast member at The American Adventure?
Lonnie: It's air-conditioned (chuckles). It's indoors, I get to sit down throughout the day. A lot of cast members in their roles don't get to sit down. I'm right across the street from all the wonderful concerts during the year, and especially the big Christmas Candlelight Processional performances during the Holiday season.
TDP: Do you have any interesting stories from your experience working here?
Lonnie: Well, one special occurrence happened when I hadn't been here all that long, maybe a year or so. I was introduced to the gentleman who did the voice of Benjamin Franklin for our show, Dallas McKinnon. He did a lot of other voice work for Disney, and Rick Rothschild (The American Adventure show director) was telling me that he became Benjamin Franklin, the way he inhabited the character. And, he had never seen the show. I actually introduced him before one of the shows, and he performed a poem he had composed himself. It really was a special experience.
TDP: Thank you very much for your time, Lonnie.
Lonnie: Thank you.
After the interview, Lonnie and I continued to talk on our way out of the park. He educated me on several aspects of World Showcase and its design, and I asked him a few random questions (some of which are outlined in the opening paragraph). Even before our interview I always admired Lonnie's attention to detail, and his ability to "plus" the American Adventure experience by providing several interesting facts before the show. Cast members like Lonnie are a true joy. Walt once said, "You can design and create, and build the most wonderful place in the world. But it takes people to make the dream a reality." Well Lonnie is definitely doing his part.