Walt Museum
Part one
of my recap of Robert Tieman's captivating program, "Selling Disney: the Business (and fun) of Movie Promotion," left off at
Character Appearances & Publicity Stunts
. Let's roll right into part two, starting with the next segment, titled:
*Specialty Art*
The characters found themselves on more than one periodical cover during the course of their film's promotion. The cover of the December 1937 issue of
Time Magazine
featured Walt with all seven dwarfs.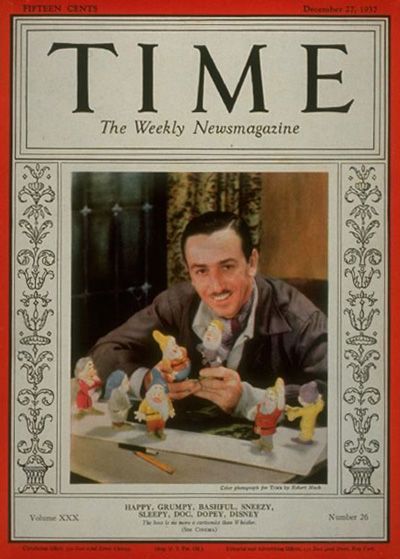 December 1937 issue of TIME
Snow White was also displayed on the covers of
Liberty Magazine
,
Hollywood Magazine
, and
Movie Mirror
, the latter of which featured a headline reading "The dramatic life and death of Dopey in 'Snow White'." This was largely due to the fact that when Walt was asked what project Dopey would be starring in next, Walt replied with, "None." The media of course came to their own conclusion as to why. Pinocchio showed up on a Children's Book Week poster for the week of November 12, 1939. He also found his way onto the cover of
Liberty Magazine
,
Playthings
, and oddly enough,
Screen Romances
. The magazine
Town and Country
featured a piece depicting how the characters would look if they were painted by famous artists (Gauguin and van Gogh were two of the painters chosen).
Pictorial Review
featured Cinderella on two different covers: One with Santa presenting her to PR's readers, and another in which she meets Baby New Year.
*Who's Hungry*
Restaurants got in on the action too. If you happened upon Carder's Restaurant at 6300 Wilshire Boulevard, Los Angeles in the early 1940s, you might have noticed a certain little wooden boy adorning your menu. And on your neighborhood Thrifty's menu, you would spot Cinderella, complete with a cutout character from the film; just a little extra incentive for the kids when nominating where to eat out that night.
*Time to go Shopping*
Advertising for the Storkline infant suite number 7258 carried with it a
Snow White
theme. And one music store displayed a white piano in its ad. Not just plain white, mind you. "Snow" white. Pinocchio, meanwhile, showed up on several different catalog covers. The two Robert shared with us were:
The Hutzler Brothers
of downtown Baltimore, and
The Spiegel Christmas Catalog
of Chicago. The Spiegel cover also featured a cartoon bear, for which Pinocchio announced an "I want a name for my pal" contest. Even though the contest produced a winner, it was the Studio who ended up choosing the name for the bear. They called him Humphrey, and he made his first appearance in the Goofy cartoon
Hold That Pose
. In a few of the more clever campaigns, department stores windows were decorated with a pumpkin coach and horses, and Cinderella herself was used to promote shoes.
*Small Town Copy Writers*
The characters also appeared in a variety of newspaper advertisements. Clark & Johnson, a restaurant in Dallas, Texas, utilized characters from
Snow White
. Dopey found his way into an ad for a clock shop, giving readers two pieces of advice: "See me in
Snow White
, and have your watch repaired at…" Jiminy had some advice of his own: "I'm Jiminy Cricket. I never tell a lie. You'll enjoy shopping at…" That last one was particularly crafty. Cinderella hawked new homes, and it's good to know that according to one newspaper advert, if Cinderella and Prince Charming had ever found their way to Michigan City, "They would eat at Arnie's Griddles!"
Snow White found herself in a Royal Typewriter Company ad, which offered customers the option to "Tap like Snow White, or hammer like Dopey." Pepsodent claimed "It's easy to have teeth like Snow White with Pepsodent toothpaste or powder." Some of the products the characters peddled made sense in some way: The aforementioned selling of shoes by Cinderella, and Snow White selling bleach. Snow White selling sunflower seeds does not fall under that category. In one of the funnier ads however, Robert shared a photo from the period during the 1952 reissue of
Snow White
, in which her and the seven dwarfs are transporting a washing machine back to their cottage. "With the Bendix washing machine, you'll wash happily ever after."
Anybody thirsty? How about a sip of refreshing Monstro Soda? Need to freshen that breath? Try Calox Mouthwash, complete with a Pinocchio glass. Ads Robert showed us also featured Pinocchio hats, Pinocchio Weatherbird shoes, Pinocchio bread, and Post Toastie Corn Flakes with cutout Pinocchio characters on the back. And even the American Dental Association got in on the action, offering a "Pinocchio Presents the Good Teeth Award to __________" certificate. I hope the kids brushed after drinking all that Monstro Soda. And during the 1954 reissue of
Pinocchio
, rose breeders Jackson and Perkins offered horticulturists the chance to "grow a storybook garden" using roses named after Pinocchio, Geppetto, and Figaro.
Cinderella herself was featured as part of a campaign for do-it-yourselfers to spruce up their homes. "Make your home a palace" was the slogan used, and that phrased donned ads, buttons, and even billboards with a three-part method suggesting you Clean Up, Paint Up, and Fix Up your residence. At one point consumers perusing their daily paper might have even stumbled upon a JC Penny ad (that turned out to be a wildly popular promotion) which offered free Cinderella aprons to its customers. Apparently all one had to do to get one was just show up and ask!
*Give Away Comics*
The program wrapped up with a few images of some special giveaway comics that people received, that not only came free with products, but more often than not featured said products within its animated pages. Snow White appeared in a comic called "
Mystery of the Missing Magic
." Pinocchio and Jiminy took to the comic medium to provide children with important kite safety tips. And during the 1958 reissue of
Cinderella
, one particular comic featured many of the film's characters enjoying a refreshing glass of milk.
Robert Tieman's comprehensive presentation seemed to fly by, as audience members who were around in those days relived wonderful moments of nostalgia, while the younger participants received a very interesting peek into the early days of movie marketing. I'm afraid my recap doesn't do it justice; I was only able to take so many notes, and many of those old photos were so great, they are way better seen rather than read about. For those of you in Southern California, Robert is presenting his "Selling Walt" program again this Saturday, July 21, at the Disneyana Fan Club Convention in Garden Grove. I highly recommend checking it out. You can also check his
official website
for future presentations/news.
Thanks for the great presentation, Robert!