Walt Museum
On Saturday, June 23, I attended a presentation at the Walt Disney Family Museum titled, "Selling Walt: the Business (and fun) of Movie Promotion." Author and former manager of the Walt Disney Archives, Robert Tieman, took us back to the early days of the Disney Studio, and the art of the advance promotion campaign. Back before constant (or any at all, in the case of the earlier films) television commercials, Twitter, Facebook, and viral videos, Hollywood had to take unusual steps to promote their upcoming releases. They not only had to describe what the story was about, but introduce the characters as well. And for Disney's animated films, this was no different.
Because of the length and great detail of Robert's presentation, rather than editing out vast swaths of it, I decided to make it The Disney Project's first two-part recap. I hope you enjoy part one.
Robert Tieman worked with Disney Legend and original archivist Dave Smith for more than 25 years. "I tried to catch up to Dave," Robert said. "But when I was learning all of the stuff he knew, he was learning new stuff. So I never could quite catch up." One day Dave suggested to Robert that he write a book. At first, Robert rejected the notion. But he soon had a change of heart, and he went on to write:
The Disney Treasures
,
The Disney Keepsakes
,
The Disney Experience
,
Quintessential Disney: A Pop-Up Gallery of Classic Disney Moments
, and
The Mickey Mouse Treasures
. For the program, Robert advised us he would be focusing on three films:
Snow White and the Seven Dwarfs
,
Pinocchio
, and
Cinderella
. He then rolled right into the photo-intensive presentation, and broke it up into categories.
*Introduction*
Robert showed us a photo of the
Snow White
premiere at Radio City Music Hall. It was packed. Disney of course was a very well-known name at the time, but thanks to Kay Kamen, who I recently discussed in
this article
, they made sure that
everybody
knew about their upcoming and first feature-length animated film.
For the purposes of promotion, studio Publicity Departments created something for the theaters called "Press Books." These books contained lots of wild ideas to help individual theater owners promote an upcoming release. Robert showed us pictures of the Press Book covers for each of the three films. One excerpt from Pinocchio's read "A far flung ready-to-tie-in-with exploitation machinery that is waiting for you to harness to your showing of Walt Disney's Pinocchio."
Walt himself keyed in on using the existing network of newspapers for promotion. A few weeks before
Snow White
premiered, a comic strip featuring parts of the film's story appeared every Sunday. Disney did this for live-action films as well, including
20,000 Leagues Under the Sea
, and even the original
Tron
! There were also a series of ads in the papers, each one featuring a different character, and each one stylistically different than the other, including size, font, etc. That wouldn't happen these days, with the standardized font and specific shades of colors.
*Fun in the Lobby*
The
Snow White
Press Book had some pretty imaginative suggestions, such as a magic mirror people could talk to, and an actual wishing well in the lobby, complete with a record player at the bottom. The book even recommended collecting the coins for local charities. Sculptures of the
Snow White
characters were also suggested. Creating them from snow outside a theater was a reasonable idea. Shaping characters from beef tallow for a cooking competition in Boston was not quite as reasonable.
Pinocchio
-related ideas involved transforming ticket booths to resemble Geppetto's Workshop, and holding a Figaro look-alike contest for cats. Theater owners wanting a theater full of cats, however, is another story.
*Character Appearances & Publicity Stunts*
Showplace Magazine
, the official magazine of Radio City Music Hall, advertised the seven dwarfs making an appearance at the Skating Pond in Rockefeller Center.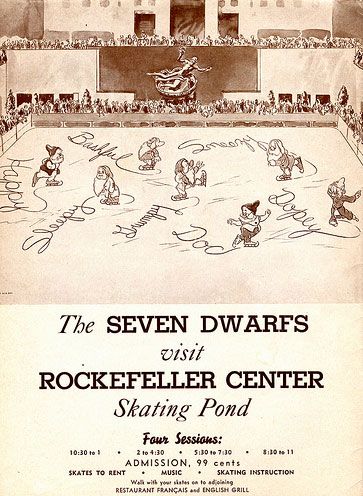 The dwarfs made all kinds of public appearances. They showed up at ice cream parties, swimming pools, and parades. And everyone's favorite dwarf, Dopey, even had his own dance craze. It was called "Doin' the Dopey." These days "doing the dopey" is a term Disney runners use, indicating the running of a 5k, half marathon, and full marathon in 3 consecutive days. But back in the late 1930's, it consisted of seven distinct dance steps, and even had its own record.
Pinocchio had his own balloon in the Macy's Thanksgiving Parade. The quality of it was a little suspect, however, as it was not an official Disney balloon. From the picture Robert showed us, the balloon sort of looked like a puppet with Monstro protruding out of its face.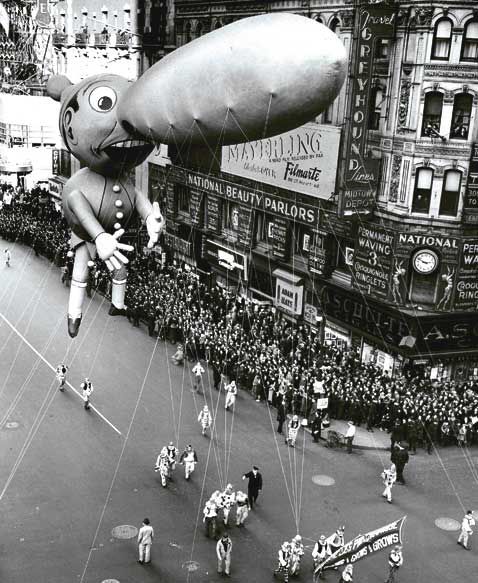 In one of the more curious promotions, the Studio made a 3-foot tall recreation of the Pinocchio puppet, and actually suggested that it arrive by plane, de-board, and be interviewed by the local press (
someone
thought it was a good idea, because Robert showed us a photo of it happening!). The Press Book also recommended a person dress up like Pinocchio and ride around on the back of a pick-up truck, "trapped" in a bird cage. An alternate option was for him to ride the back of a donkey. While Robert didn't have any bird cage photos, he did produce a full-grown man dressed as Pinocchio, riding a donkey. I wouldn't go as far to call the photo terrifying, but it was certainly odd. And speaking of odd, we were presented with another photo of a real life Pinocchio, this time being taught how to golf by a baseball star (as opposed to a pro golfer), Red Sox infielder Jimmie Foxx. In the category of "pretty neat promotions," there was a "Quest to find Cinderella" in Chicago. One hundred winners were chosen, and each girl was given a free ball gown, and got to put it to use in an actual ball thrown for them.
The end of that segment merely marks the halfway point of Robert's presentation. Please check back soon for the second half of "Selling Walt: the Business (and fun) of Movie Promotion." The next segment Robert presented is titled "Specialty Art," and details some pretty cool magazine covers the Disney characters were featured on!