Part Two
of this recap left off at the end of Tony Baxter's incredible presentation. Since it's time to wrap this baby up, let's roll right into the last keynote of the day, featuring Marty Sklar with Jeff Kurtti. But first, there was one last piece of pre-keynote entertainment in store. This time Don filmed another parody of a ride intro you may be familiar with: The Tower of Terror. I'm afraid I didn't snap any pictures of this video, but it was just as hilarious as the others. And when the video ended with the PNWMM crew in the elevator after the building was struck by lightning, the lights came up, they had all "magically" appeared on stage. It was a very clever way for Don to introduce his partners-in-crime.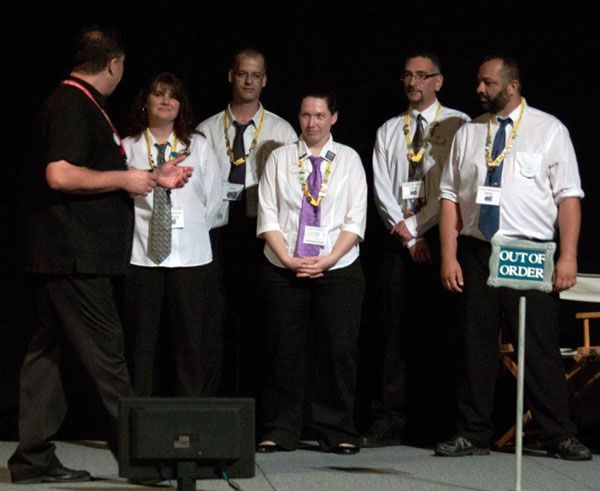 Left to right: Don Morin, Michelle Morin, Eric von Oy, Crystal von Oy, John Garcia, Marc Morin
-Pic courtesy of Don Morin-
Not pictured is Jonathan Dichter, who in addition to being a member of the planning team, was also out in the main hall between keynotes performing "Main Street Magic" shows. I was unable to catch one, as I was either mingling with guests or hanging out with Jeff. I will be sure to catch one of his performances next time!
After Don's crew stepped off the stage, Don stayed on to bring up friend of the PNWMM, friend of The Disney Project, and all around great guy, Jeff Kurtti. Don wanted to thank him for all of the support. Jeff has done a lot for them over the years. He's done a lot for The Disney Project, too. He truly is a wonderful person, not to mention a terrific author, father, and fellow Walt-ist.
Don and Jeff
Soon Don departed and Marty Sklar joined Jeff onstage. Jeff used to work under Marty, which made for a fun dynamic. One of the first things Marty talked about was how he started with Disney. He was a student in UCLA, and someone had recommended him to E. Cardon "Card" Walker, head of Disney Marketing. Card left a message for Marty, but Marty never returned it. He thought it was a frat brother playing a trick on him. "Nobody had the name 'Card,'" Marty said, "except maybe a dealer in Vegas." Luckily for Marty, Card called back. Walt wanted an 1890's newspaper to be sold on Main Street, and Marty was hired as its editor-in-chief. He was hired just weeks before Disneyland opened, and had to present his work to Walt himself. He was quite nervous. Walt liked his work, however, and went on to write/edit more periodicals, like the Disneyland magazine Vacationland.
Jeff and Marty seemed to have a genuine conversation, as opposed to a strict regimen of questions and answers. Because of that, the topics would vary, and Marty would often throw in little insights that only someone who worked so closely with Walt would know. One great example was how well Walt used the word "thing." Marty recalled, "It really got your imagination going. One time when he was describing the Pirates ride, Walt said, 'And towards the end we're going to have an entire ransacked town, with pirates everywhere, and all these other things,' and we'd say, 'That sounds pretty good already!'" Marty also remarked on how well Walt fit people into positions, even ones they had no idea they were capable of. "Walt was the greatest casting director ever," he stated.
Jeff and Marty
The two speakers then tackled one of my favorite periods in Disney's history, the 1964-65 New York World's Fair. "The Carousel of Progress almost didn't happen," Marty told us. "When Walt showed them the concept of the ride, one of the General Electric executives wondered why we were showing off such old GE appliances." It turns out that after that, Walt immediately called GE and advised them that they had better send some different people over. And, they did! Another tidbit that Marty offered us was, "Ford wanted to be known as an international company. The genius part of that pavilion was Walt was developing the Peoplemover system at the time, so while General Motors was putting people in seats, we were putting people into Ford cars."
Towards the end of Walt's life, Disney World (which included EPCOT the city) and Cal Arts were constantly on his mind. In regards to the Florida Project, Walt asked Marty to write two endings for its short promotional film. One ending was to be seen by the public, and one was meant to attract American Industries to buy into Epcot. In December of 1966, just before Walt Disney passed away, one of the last people he asked to see was Harrison "Buzz" Price. Walt gave Buzz all of the files on the California Institute of the Arts (CalArts), and said to him, "Make sure this school gets built." No pressure, right? However Buzz came through for Walt, in a big way.
On October 1, 1971, Walt Disney World opened. Unlike Disneyland's opening day, it went quite smoothly. It was an instant success, and by Thanksgiving, traffic was backed up 12 miles with folks trying to get there. Then in 1974, Marty once again received a call from Card Walker; only this time Card was the president of Disney. "What are we going to do about EPCOT?" he asked. The Disney Company had a fantastic group of talented people, but quite frankly, without Walt, EPCOT the city just wasn't an option. It eventually morphed into a new theme park concept, and Marty suddenly realized that they hadn't needed any "new" music for a park in years. So Marty did what any sensible Disney employee would have done, he called the Sherman Brothers and said, "We need your help."
Jeff then shared a humorous moment from his days in Imagineering. At some point Disney decided to create cardboard cutouts of some of its Imagineers, much to Marty's chagrin. He took it in stride, however, and even "posed with himself" for the camera.
Bottom left, Marty poses with, Marty!
And Jeff being the goofball he is, decided to have a little fun with cardboard Marty.
Marty wrapped up his chat with Jeff by talking about an organization he is very passionate about, Ryman Arts. Per their
official website
, Ryman Arts "teaches teens essential skills for art and life in a rigorous, nurturing studio environment." It gets its name from legendary Disney artist, and Disney Legend, Herb Ryman. It is a very cool program for up-and-coming artists. And oh by the way, while you do have to be selected to attend the program, it is
totally free
!
Ryman Arts
The audience gave Jeff and Marty a resounding round of applause, and extended its ovation for the earlier keynotes, as well as to thank the PNWMM crew for all of the hard work that went into the event. After the applause, we all gathered in the main exhibition room one last time to get the results of the raffle drawing. Before Don took the stage, I grabbed him for a quick photo.
Keith and Don
Unfortunately I didn't win anything, but then again they could have called my number without me noticing, because I was busy in the back enjoying my chat with Marty (who was soon joined by Lou Mongello) and Jeff. Oh, and I also ran into the lovely Miss Deb Wills from
AllEarsNet
!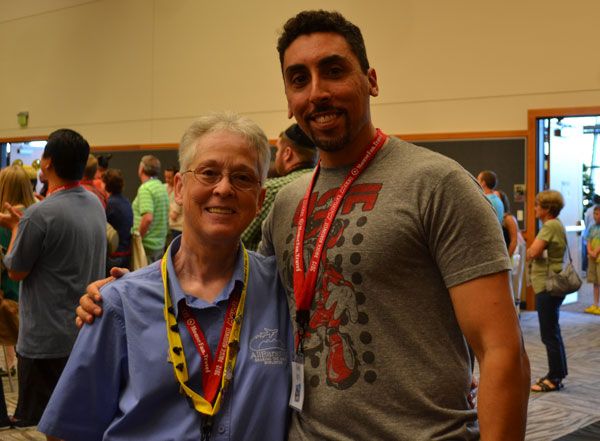 Deb and Keith
Marty and Lou
After the charity raffle, Don called Marty up to the podium and presented him with a check for Ryman Arts in the amount of 7,000 dollars. The crowd roared, as we knew it was our last time we would be able to show our appreciation. Don was clearly as thankful for the outpouring of gratitude as we were to him for the amazing day he and his crew gave us. He then officially called the 2012 Pacific Northwest Mouse Meet to a close, followed by one last round of applause, of course.
The Next Day
For a small subset of attendees, the weekend wasn't over just yet. Don had organized a small brunch not far from Lynwood, and Marty was on hand again to regale us with even more stories. I have to say, I can listen to that man talk all day. During the meal I was able to converse with fellow Disney fans at a much more relaxed pace, since I was so concerned with getting photos and taking notes the previous day! I got to actually speak with Lou Mongello. I chatted with my Bay Area neighbors, the folks from
Mousetalgia
. Future Disney author Russell D. Flores was sitting next to me, and he was kind enough to give me a sneak peek of his upcoming book. It's titled, "Seen, Un-Seen Disneyland," and it's all about the stuff at Disneyland that's hiding in plain sight. It comes out soon, so be sure to like the
official Facebook page
for updates. I saw the unfinished version, and it was great! I also hung out with Don, and was lucky enough to be at the same table as Marty. A cool side note: the morning after brunch raised another 500 dollars for Ryman Arts!
Keith and Lou
Keith and Russell
-Pic courtesy of Russell D. Flores-
As the brunch wound down, Marty spoke to us for close to an hour! At one point during his talk he picked up a napkin and drew Spaceship Earth. My new friend Jenna was the lucky recipient of the finished piece.
"Like a grand and miraculous spaceship..."
After his last talk, Marty happily posed for individual photos. As I stood next to him he asked the photographer, "Can you make me as big as Keith?" I couldn't believe he remembered my name! He had met so many new people that weekend.
Marty and Keith
And finally, after the last individual photo was taken, it was time for a group shot. We took two: one normal, one silly. I think you know which one I'm going to share with you guys.
The entire brunch posse
-Pic courtesy of Don Morin-
Thank you Don Morin and the PNWMM Crew for an unforgettable weekend. Thank you to Joanna Hiltz and the rest of the "vendors" for showing off their wonderful creations. Thanks to all of the fellow Disney fans for helping to contribute to Ryman Arts. Thanks to Marty Sklar and Tony Baxter for the awesome one-on-one talks. Thanks to Paige O'hara for the great stories, and all of the PNWMM sponsors. Thank you to the weather gods for showing us that the Pacific Northwest does get some sun (it was in the mid 80s!). And thank you to Jeff Kurtti, for everything. You are a good friend.
I hope you enjoyed reading my three-part recap. And if this wasn't enough to convince you to go next year, send me an email so I can convince you myself!