I knew this race was going to be tough before I ever laced up my Sauconys. For one, I didn't train. Like at all. I ran a total of maybe five miles in the months leading up to the ToT10. I know that's not necessarily the best blueprint for an enjoyable race, but I had a few reasons. One of them being, it was only ten miles! Yeah, I've had smarter moments. I'll just lean on my other reasons for justification.
Another reason I had predicted difficulty: it was hot. Hot and humid. It may have been the most humid that I've ever experienced while in Walt Disney World (or anywhere for that matter). We don't get much humidity in San Francisco, so my primary exposure comes during my trips to Lake Buena Vista. I wasn't the only one who noticed the humidity, by the way. Next to Epcot 30, it may have been the most-discussed topic that weekend. So I'm en route to the Studios, amidst maxed-out humidity, and having a (admittedly self-inflicted) whopping five miles of training under my belt. What's on my mind? Why, "Let's run a race!" of course.
The last bus departed the Beach Club just before 8pm, so my friends and I arrived with about 2 hours to spare. RunDisney loves getting runners to the race nice and early, so to kill time I met up with a few other friends and snapped some pre-race photos. Many runners were sitting on the ground either relaxing or stretching. And there were more than a few runners in line for the port-a-potties.
Holly, Keith, Stacey
Potties!
One of the pre-race backdrops for photos
I was set to be in corral A, but my friends were in corral D (even though they shouldn't have been). I decided to hang back to run with them, because not having trained for the race, I figured I was going to move pretty slowly anyway. Mistake number two.
The race began for corral D, and I literally walked the first mile. A few people maintained a slow jog, but I have such long legs, my walking was keeping with the pace of the runners. I knew I couldn't handle just walking for long, but it wasn't until I came to the first mile marker at somewhere around the 17-minute mark that I made the move. I told my friends I had to go, and I began weaving through the throng of people. I swear it feels like all that weaving adds an extra mile or two to your run. As I weaved, I started to notice some of the course decorations.
Some "spooky" Twilight Zone effects
Kinda hard to see, but it's the Shadow Man!
Mile 1 was easy, because of the walking. Miles 2 through 5 were pretty rough. Aside from the weaving, that part of the course takes place along the Osceola Parkway, which means not much to look at and a few overpasses. The course takes you to the Animal Kingdom, but unlike the Wine & Dine, you never enter that park.
Blurry Lion King character
Neither his teeth or his ambition were bared
It wasn't until mile 5 or 6 that I really got going. Running lanes were starting to open up as we approached the ESPN complex. I had also just gobbled up some GU Chews (which by the way are
way
better than the inedible paste), so for the first time that night I felt pretty good. Plus that section of the course is nice and flat, and well-lit. Looking back on the race photos, I was pretty happy during this stretch of the run. Now when it comes to spotting the race photographers, my friend
Jenn
's ability is the stuff of legend. I must usually be focusing on not dying then, because I typically only notice a handful of them. In the ESPN Complex portion of this race, however, I spotted them all.
The "creepy" Haunted Mansion CM's from the
Boo to You
parade made an appearance, so I tried to snap a picture. It came out blurry, but I think that actually adds to the creepiness!
Mile 7 took us up along Victory Way, and back onto Osceola Parkway. By mile 8, my GU Chews had worn off, and I began to miss the smooth, illuminant grounds of the ESPN Complex. The humidity had been an issue for most of the race, but my not-so-secret "trick" was helping. What I do when it's particularly warm is at every water station down two cups of Powerade, and poor a cup of water or two on either the top of my head or the back of my neck. It's not for everyone, but it helps me.
You better lose yourself, in the music...
Home stretch time! Right around mile 9, we entered Hollywood Studios. Just like all the parks, this one is pretty at night. I am used to running through this park for Wine & Dine however, so I was a little sad when we made it to the Streets of America and the Osborne lights weren't glowing. At least there were a lot of people there to cheer us on, and funnily enough that really helps towards the end. I feel like the loudest concentration of spectators was located at the Sorcerer's hat. I tried to get video of it on my phone, but it didn't work out. I eventually crossed the finish line, and while tired, I was pretty shocked that I felt as good as I did, considering the weather and my (lack of) training.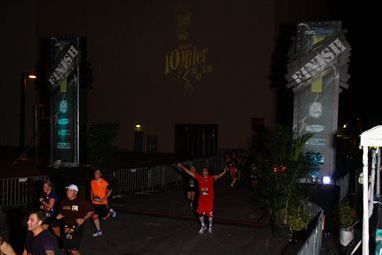 As bad as I look in this pic, it's better than my "official" post-race pic!
After the race we received our Powerade and food boxes, which consisted of crackers, a protein bar, cheese, and a few other items. I ate the crackers and the protein bar, and waited for my friends to text me. As I looked around, I noticed a few runners weren't feeling very well. One girl was either being sick, or she was yelling at a bush. After receiving a text from my friends, I made my way over to the Indiana Jones Stunt Show, where they were picking up their bag. As soon as I walked in, and realized I had to traverse stairs, I became sad. I was quickly distracted however as I had to dodge the puke from a girl sitting on a nearby bench. All told I had witnessed about four incidents of regurgitation that evening, which was a new record for me. Also at one point inside the bag check area, a man became extremely lightheaded, so my friend Holly (who is a nurse) ran over to make sure he was okay. Thankfully he was, as it turns out he was just a little dehydrated.
There was a planned meet for members of the runDisney Facebook group at 1am, in front of 50's Prime Time. Only a handful of us made it, so while there, we took advantage of the opportunity and posed for a photo.
runDisney Facebook group in the house!
This was not the worst race I've ever had (in terms of difficulty, it would be the Triathlon I ran in 2009 – in terms of heat index, that honor goes to the 2007 Disneyland Half), however overall it was pretty rough. While runDisney did have a decent amount of characters out, much of the course is a little bland. The only reason I ran this race instead of the Wine & Dine Half is because they moved that race to November this year, and I already had the time booked at the Beach Club (not to mention this was Epcot 30 weekend). The humidity certainly didn't help matters, although you can hardly blame runDisney for that. Overall I think they did a good job with the water stations, characters, post-race party, etc. However I would like to see some slight tweaking to the course in the future. Ten miles is such a weird number, why not just make it a full Half and let us run through Animal Kingdom? Since they labeled this race as the inaugural Tower of Terror 10 miler, I don't think that'll happen any time soon. I would run this race again, but I still definitely prefer the Wine & Dine Half.