Like most lifelong Disney fans, there are many experiences that hold special places in my heart. As a huge
Tron
fan, I remember loving the wall of
Tron
video games in the Disneyland Starcade. They even had TV screens above them so people could watch you play! Simple things register as well, such as being able to see Disneyland from where your dad parked the car, or riding the escalator to enter the Space Mountain queue.
Few memories, however, encapsulate my early years at Disneyland better than dinner at the Tahitian Terrace. Sadly, the Tahitian Terrace shut its doors in spring of 1993 to make way for Aladdin's Oasis, a dinner show based on the popular animated feature. The Aladdin show was cute, however it failed to capture the charm and certainly the serenity of a tropical paradise. And personally, I grew tired of picking nuts out of my rice. The Oasis only lasted a few years, and was converted into a storytelling venue in 1997. Since then I would occasionally peak my head in and look longingly at what was once my all-time favorite Disney eatery, and hoped that one day my beloved Tahitian Terrace would return.
On Saturday, October 13, 2012, it did just that.
The wonderful folks over at
Mousetalgia
hosted a "one-night only" event that night called "An Evening at the Tahitian Terrace." They procured the original venue, and with a little Disney magic, transformed it from its current Arabian theme, to the soft splendor of the South Pacific.
Our lovely greeters/dancers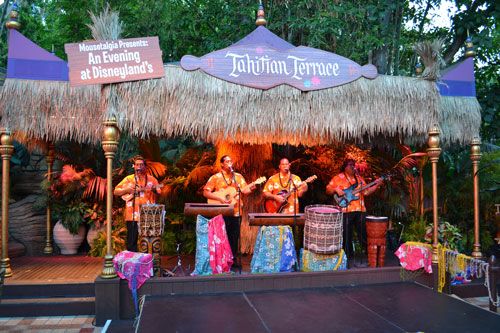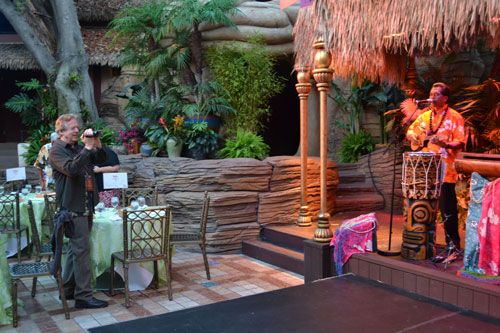 Tony Baxter enjoying the band
Check-in began just before 6pm, and we all received our lanyards and puka shell necklaces. It was open seating, which meant as soon as you walked in, you picked a table. I opted to sit closer to the stage, not far from where I usually sat when I was a kid. The band was onstage performing tranquil music from the Islands, as the final guests located a place to sit. We were then invited to help ourselves to the buffet, which included such dishes as: Fried Chicken with Coconut Sauce, New York Sirloin, Grilled Mahi Mahi, Polynesian Vegetables, Cantonese Rice, and more. I was mingling with different friends at first, and opted to grab food after the initial rush. There was plenty to go around, which was good since I helped myself to seconds!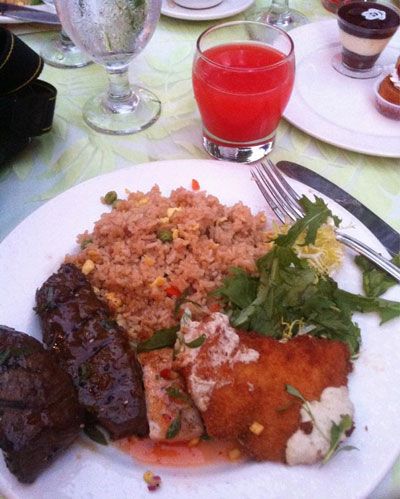 Plate #1
The desserts were equally delicious, which consisted of little rum cakes, pineapple upside-down cakes, mini flourless chocolate cakes, and several other small but delicious treats. And what did we wash it all down with? Why Tahitian Terrance Punch, of course! At that point just eating that style of food inside that venue was worth the price of admission. It's hard to put into words the feeling that comes with experiencing something that you so cherish, and that you'd never thought you'd ever experience again. It was like time travel, without the messy plutonium.
Towards the end of our meal, the entertainment began. Emerging from the cave next to the stage (only this time sans waterfall), groups of dancers came out performing a variety of authentic South Pacific dances, featuring the cultures of Hawaii, Tahiti, Samoa, and more. All of the performances were beautiful, from the grace of the hula, to the fury of the slap dance. Soon it was time for one of my former favorite performances to begin, the flaming knife dance! The host however gave us a heads up just before the performance. "They wouldn't let us use fire, so please enjoy… the flameless knife dance!" I guess fire safety rules are a little different these days, but the dancer still came out and performed wonderfully. And perhaps one of the coolest moments of the evening was when our host informed us that he was the fire dancer for the Tahitian Terrace for the last seven years before it closed, and his father held that role for seventeen years before him!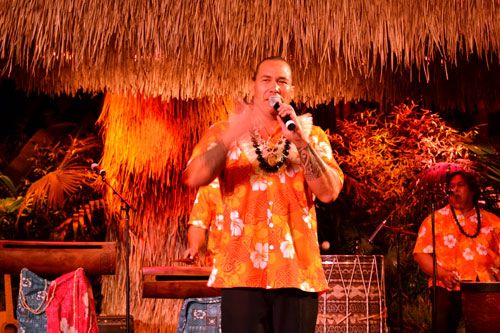 Our host - SO cool to find out he used to be the fire dancer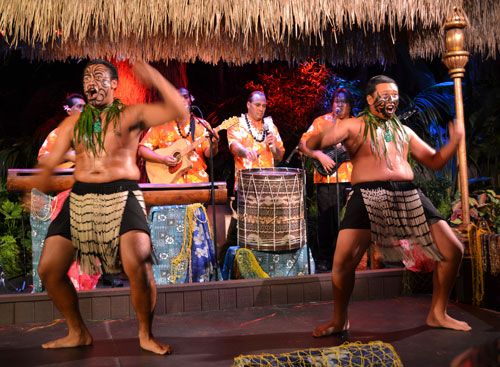 Samoan Slap Dance!
See the silver part on the edges of the stick? Yeah, normally that's flaming when he does this
Another tradition that I had presumed they wouldn't forget was bringing unsuspecting audience members onstage. Some of the folks picked included Disney Imagineer Josh Shipley, Mousetalgia hostess Becky Breiland, and Disney Legend Bob Gurr (who opted to give his alias "Roberto" when asked for his name). Each guest brought on stage had their own personal dance instructor, and were given a very brief, very public tutorial on how to shake it, Polynesian style!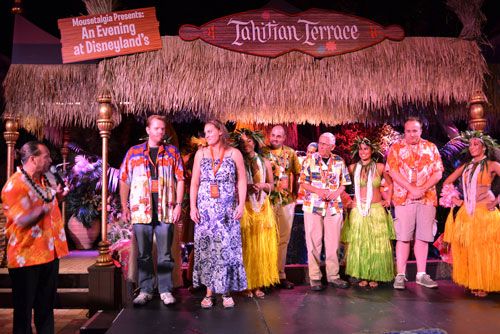 The "volunteers"
Go Josh!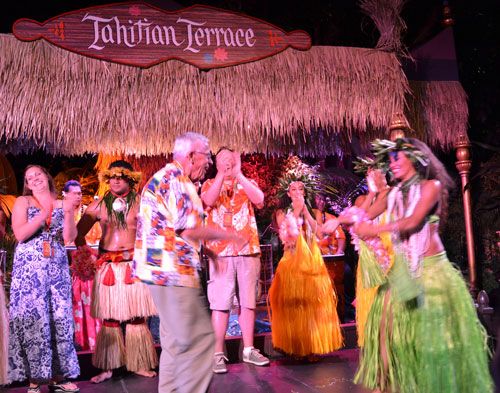 Bob Gurr easily won best dance of the night
After the wonderful dancing, both professional and amateur, it was time for the special guest of the evening to speak. Disney Legend Rolly Crump was on hand, and the talented Disney artists Kevin Kidney and Jody Daily interviewed him onstage. Rolly's impressive resume includes: animator on films like
Lady and the Tramp
and
Sleeping Beauty
, designer on beloved attractions like the Tiki Room and the Haunted Mansion, creator of the Tower of the Four Winds marquee for It's a Small World, and project designer for The Land and Wonders of Life pavilions for EPCOT Center.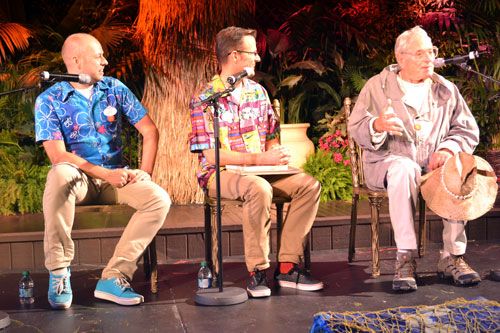 Jody, Kevin, Rolly
Rolly shared many wonderful stories about his long and amazing Disney career, and due to memory card restraints, I was able to film about 80 percent of it. For those interested, that video can be viewed below.
Rolly's current project is an autobiography outlining his incredible experiences with the Disney Company, told in his own words and photographs.
It's Kind of a Cute Story
, put together by
Communicore Weekly
co-host (and good friend of The Disney Project) Jeff Heimbuch, is due out within the next two months, with a book tour already scheduled for early 2013. For more information, please check out the book's
official Facebook page
.
At the end of the evening, the crew from Mousetalgia took the stage and thanked us all for attending, while it should have been
us
on stage thanking
them
for the wonderful event!
Dave, Jeff, Kristen, Becky
Before we were ushered out, I was able to speak with Kevin Kidney and let him know how great his and Jody's work was. I also asked if he had any spare Moonliners lying around! Alas, he did not. So I settled for a photo with him instead.
Keith, Kevin
Oh, and I thought it would be fun to post a photo of my young self enjoying the original Tahitian Terrace. I know I have more, and when I find them I will post them. In the meantime, please enjoy my horrible early 90s fashion (left), hanging out with three of my cousins.
Don't act like you never owned overall shorts - Circa 1991
HUGE thanks to the team at Mousetalgia for putting this event together. I was surprised to discover I was one of the few people that night that had actually frequented the original Tahitian Terrace. After dinner when a bunch of us were recapping the evening, many of them asked me, "Was tonight just like it was?" With the exception of a few obvious things out of their control (the cave's façade, the "no fire" fire dance), I was happy to say that Mousetalgia and Disney did a magnificent job recreating one of my very favorite Disney memories.
Note to Disney: When asked if any of us wanted the Tahitian Terrace back, everyone in the crowd erupted, including Bob Gurr and Tony Baxter!
"Alllloooooooha!"