On Saturday, October 27, I attended an event celebrating the 30th anniversary of the original TRON at the Chinese Theatre in Hollywood. TRON has long been one of my favorite films, like most fellow geeks of my generation. It was so ahead of its time that the effects still look cool to this day. The event featured not just the screening of the film, but a panel with some of its filmmakers, producers, and even TRON (Bruce Boxleitner) himself!
The event was scheduled to go from 7p to 2a, and I arrived at the infamous Hollywood landmark at about 6:30. There was already a large crowd gathered out front, which consisted of event attendees, curious tourists, and random homeless people. The event's special guests started to arrive, and posed for the paparazzi on hand.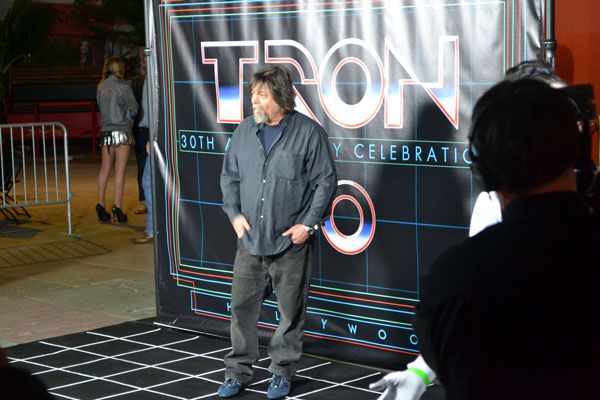 TRON director Steven Lisberger
The fans who dressed up posed as well, in many cases with the event guests.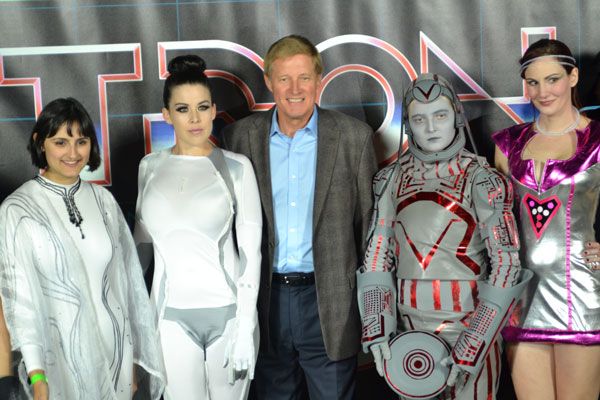 Bruce Boxleitner (center) with a few fans
The different panel members regaled us with many wonderful stories prior to the screening. Co-writer Bonnie MacBird spoke with her husband Alan Kay, and explained that not only did she meet Alan thanks to TRON (a successful computer programmer, he was tapped as a consultant for the film), but she named the character of TRON's user, Alan Bradley, after him. Alan also told us about a cool scene that was planned for the film, but never made it in: TRON finds some humorous material in a "vast cybernetic store," and did not understand it. So TRON interfaces with his user, and he tries to explain to TRON what a joke is.
I took video of the panel, for those who are interested.
Once director Steven Lisberger wrapped up his presentation, they screened the film. It is always cool getting to see it on the big screen. After the movie everyone headed to the party, which featured MOBIUS8, ALLUXE, and NOSAJ THING. The party itself was decorated with brilliant neon and lasers, allowing us all to feel what it was like to be on the grid.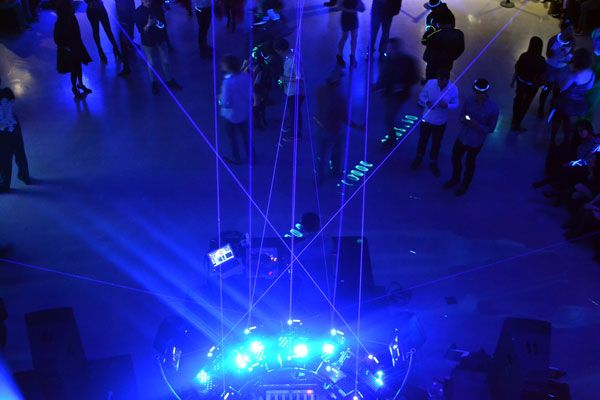 Interspersed with the partygoers were TRON arcade games...
...and large screens displaying concept art as well as awesome on-set photos.
Original TRON concept art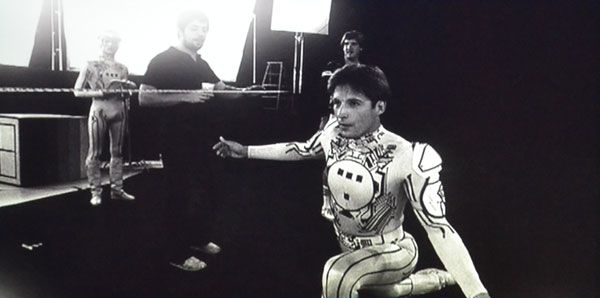 Bruce Boxleitner practicing some disc throwing moves
Steven Lisberger and Jeff Bridges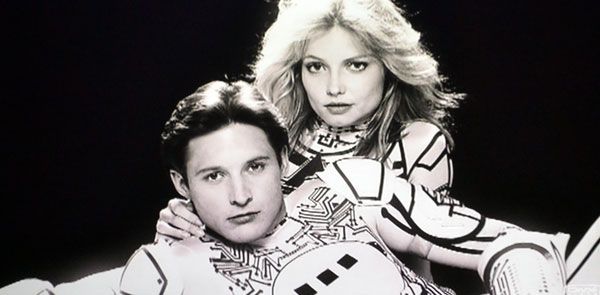 Bruce with Cindy Morgan (Yori) lookin' good!
Out in the main hall, we were treated to several displays containing vintage TRON merchandise.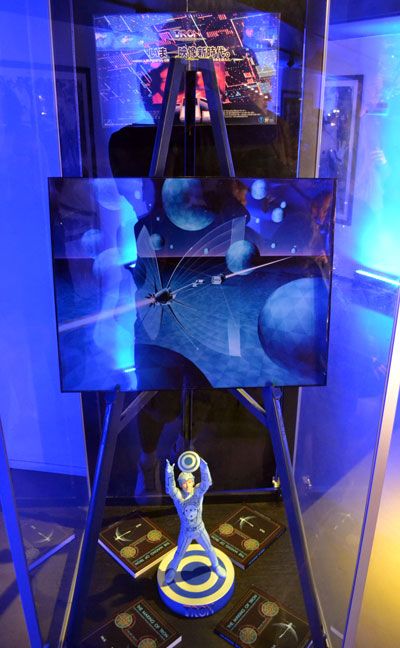 I got this toy as a kid, and still have it actually
The highlight of the night for me came when I got to finally meet one of my favorite filmmakers in person, Jerry Rees. Not only did Jerry work on the original TRON, but he is responsible for a few films that most Disney fans are very familiar with; In-park films such as
O Canada
featuring Martin Short (Epcot),
Disneyland: The First 50 Magical Years
featuring Steve Martin (Disneyland), and feature films such as
The Brave Little Toaster
. He also happens to have directed what I consider to be the best in-park film in Disney history,
Cinemagique
in the Walt Disney Studios Park, Paris. Do not watch it on YouTube. You have to see it in person first. He and I spoke briefly about TRON, but I have to confess we spent most of the time talking about
Cinemagique
. Sorry, fellow programs.
Keith and Jerry fighting for the users
The party was scheduled to end at 2am, but I could only last till 1. It was a pretty amazing night. I really loved being surrounded by so many fellow TRON fans.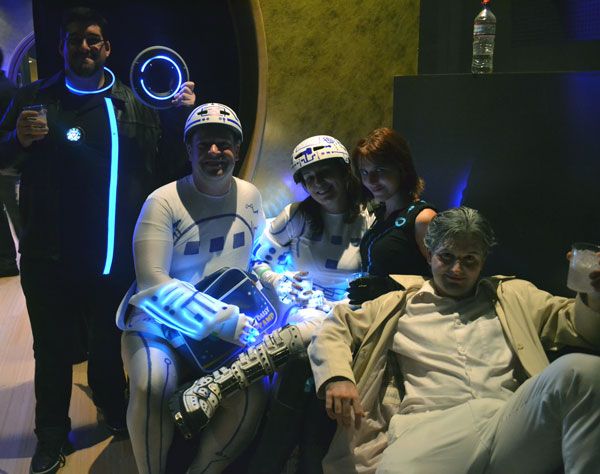 Flynn, two wayward programs, Quorra, Zuse
If the event were local to me, I might have tried to dress up myself. Even still it was a fun environment, and the event coordinators did a good job providing a variety of TRON-related stimulus to satiate a variety of geek palates. I will definitely attend the next one!