The tale of
my first marathon
, which took place on January 13, 2013, bears its roots in September of 2012. It was during the 7th annual Disneyland Half Marathon weekend in Anaheim, California. I was down south for the race weekend not to run, but to visit my East Coast runDisney compatriots who were there to race, soak up some non-humid heat, and experience the only park Walt himself set foot in.
Being a "non-runner" runner, I am content with one race per year, and was already set to do the Tower of Terror 10 Miler four weeks later (which
should
have been the Wine and Dine Half Marathon, but that's another story). Sad I was not going to be running with my friends during the Wine and Dine Half, which I normally do every year, they urged me to join them over Walt Disney World Marathon weekend. I scoffed, because running a full marathon was something that I never really considered. I mean, it was on my bucket list, but it was towards the bottom.
My friend
Dan
, who based solely on amount of usage, probably coined the term YOLO (you only live once). He presented that to me, and it was soon followed up with FOMO (fear of missing out) by my friend/The Disney Project superfan,
Patrick
. What is one to do when confronted by such formidable acronyms? At first I thought about maybe just doing the half. But then I figured if I was going to do it, to do it right. I signed up for the full marathon the day it reached capacity. It must have been meant to be.
Except, nobody told that to my right knee.
So the same nagging knee injury I sustained during my football days, which precluded me from even training for my first race ever (the 2007 Disneyland Half), reared its ugly head about halfway through my marathon training. By the time I got to my "long run" stage, in which I was supposed to rattle off an 18-mile jaunt, my right knee gave out at mile 10. I hobbled for two more miles, but threw in the towel when the pain just increased with each stride. The following Sunday I tried again. I had to stop at mile seven. Yeah, this was going to be an interesting marathon.
Per the (very helpful) advice of the folks in the Team runDisney Facebook group, I decided to cease all running for the remaining two weeks. At that point I was trained up as good as I was going to be, and I needed to let my knee heal. I forgot to mention that I was not wearing my knee brace, which I had actually misplaced, at any point during my training. I ended up finding it a few days before the trip (I would have just purchased a new one had I not—something I probably should have done earlier).
I arrived in Florida at 7am on Friday, January 11. I was lucky enough to make it into the special runDisney meet-up scheduled that morning. I was
unlucky
enough to have my redeye flight delayed by 90 minutes (a light had gone off in the cockpit indicating an engine valve was not working—the punch line is, the valve was fine, it was the light that malfunctioned), so I missed the meet-up. I was happy to be at Walt Disney World however, so I headed straight to meet my friends for breakfast. They had visited the Expo the day before, so I went after breakfast. The line to get in was not short.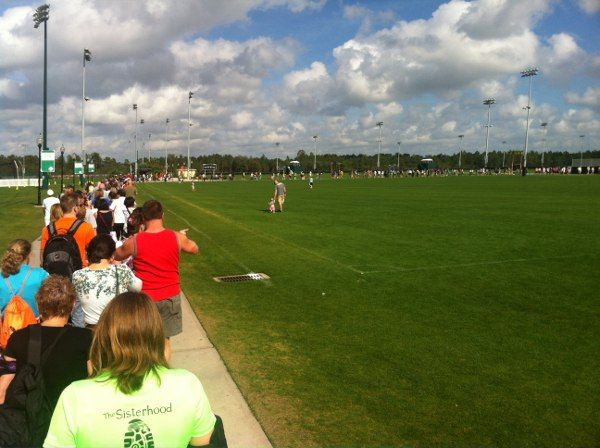 I finally got in, and retrieved my bib and shirt. The KT Tape booth was taping people up for free, so I figured, "Why not?" It couldn't hurt to add some extra protection. I had never used KT Tape before, but being a former athlete, I can tell you that tape can do wonderful things. The line was way too long, however, so I decided to just buy some, and hope the YouTube instructions were easy enough to follow. I didn't pick up any runDisney merch on my way out, but I did stop to pose with one of The Disney Project's biggest fans.
"Hey Keith! Can I take a picture with you?" - "Sure thing, Drew."
I slept in on Saturday, having only gotten three hours of sleep on the flight to Orlando the night before. Part of me said to get up nice and early, so I'd be tired enough to go to bed at 9pm Saturday night. The other part of me said to catch up on my rest, as I'd need it for Sunday. The other part of me won. I KT taped my knees that night while we were waiting for our table to be ready at Kouzzina's. The table never did become ready, so my friends and I ate at the Yakitori House in Japan. After dinner, my friends headed back to the room, and I headed to the American Adventure to do some filming. I ended up getting home a little after 10pm, and was asleep around 11.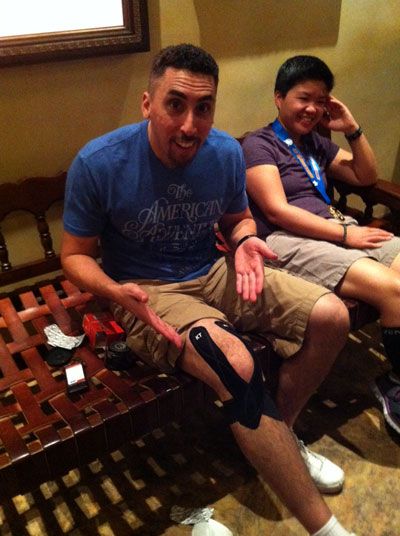 KT Tape expert!
The alarm went off at 2:30am, and Patrick and his sister Cathy were getting ready. I had organized all of my stuff ahead of time, so I basically just had to get dressed, brush my teeth, and head out the door. We met up with our friend
Danielle
in line for the bus, and soon we were all being transported to the race area for
my first marathon
. I was really tired. Since my body was still on Pacific Standard Time, I had basically gone to bed at 8pm, and woke up at 11:30pm. Not cool.
I told Pat I wanted to do a "pre-enactment" of what I believed I was in store for come Mile 20. It's actually kind of eerie how close I was.
I was the only one of the group in corral C, so I headed over there. My friend
Katherine
who I hadn't seen yet was there, and we tried to meet up via text. We were all packed in like sardines, however, so it was not to be. All I could do was wait. Before I knew it, the fireworks for corral A went off, and the race officially started. I gobbled up half a pack of GU chews, and began to stretch.
A few minutes later, BOOM! The fireworks for corral B went off, which means I was next. All along I said I just wanted to finish. Six hours, seven hours, whatever. I had no idea if my knee was going to explode or something, and have to crawl the last five miles. So I planned to run really slowly for as long as I could run. I just wanted to finish. I just wanted to finish. I just wanted—BOOM!
After a few minutes of herd-thinning, I finally crossed the START line. My brisk walk turned into a jog, then a slow run. And wouldn't you know it, my right knee began to tingle right away. "Oh boy."
I ran through the tingling, and was relieved when it subsided. There had been signs up all weekend indicating a heat advisory for the runners, so I remained cognizant of my internal heat index. Usually when it's really warm, I drink Powerade at the water stations, and dump water on my head. Funnily enough, I only had to dump water on myself once this entire race, so heat was never a factor. But fatigue would be.
Miles 1-3 would prove pretty uneventful. It was still pretty dark, and there wasn't much to look at. We started on Epcot Center Drive and turned north onto World Drive. By Mile 4 however we had reached the Seven Seas Lagoon, and the Contemporary was in view. At about Mile 5 we entered the Magic Kingdom, and the crowds on Main Street were in full-on cheer mode. I saw Lou Mongello of WDW Radio, so I ran over to say hi, and snap a quick picture.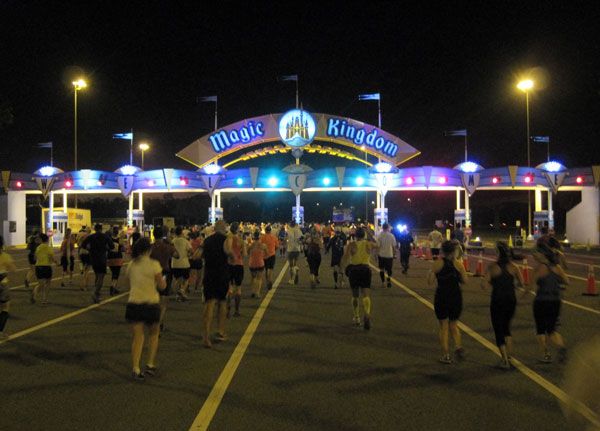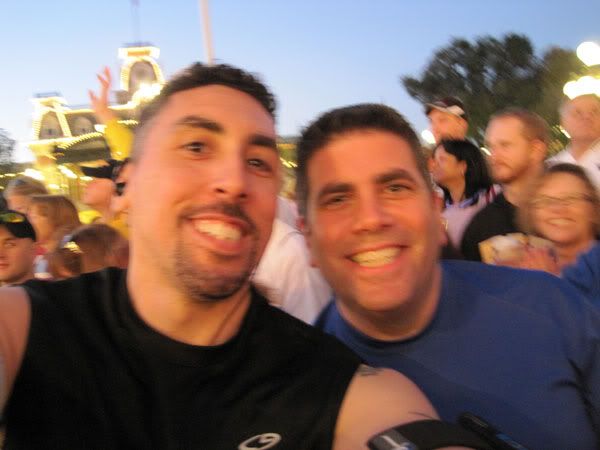 Me and Lou
After that the course led us down Main Street and into Tomorrowland. I was a little sad that it turned left at the Merchant of Venus and didn't round the Lunching Pad, as I would have loved to have snapped a picture of the Carousel of Progress. We ran through Fantasyland, and then through Cinderella's Castle, which was all lit up for us.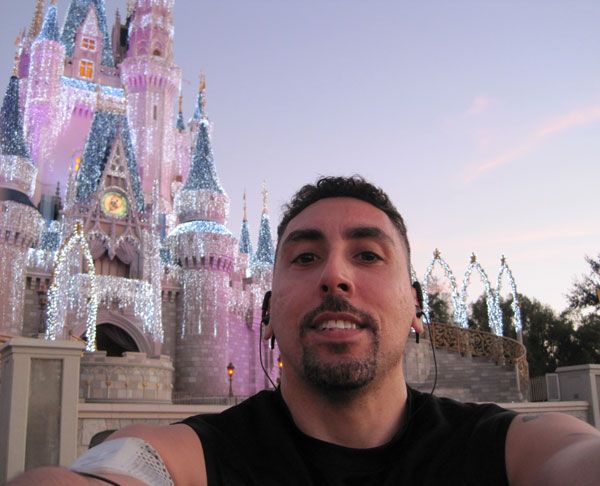 After exiting the Magic Kingdom, the next eye candy for us came during Mile 8. On the Walt Disney world Speedway (which we got to run on, very cool) they had rows of amazing cars on display. I took a bunch of pics, including a 1965 Corvette I fancied.
Thought this was funny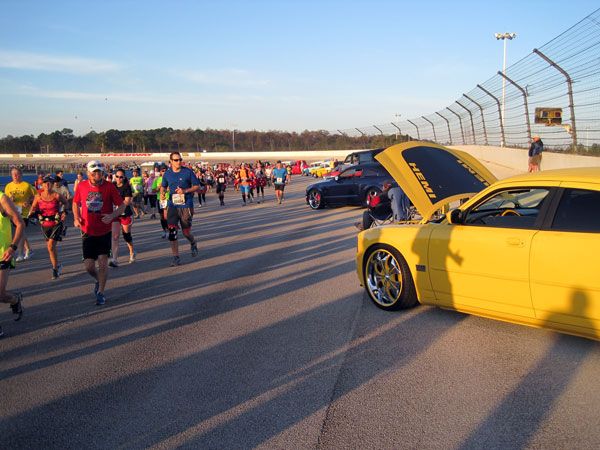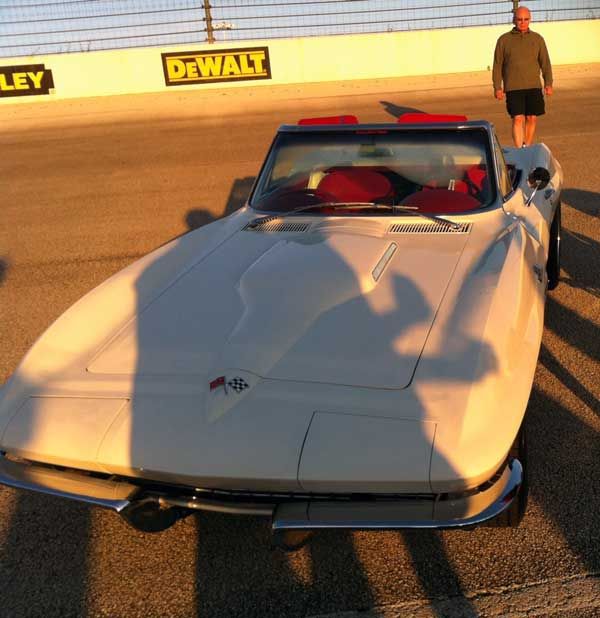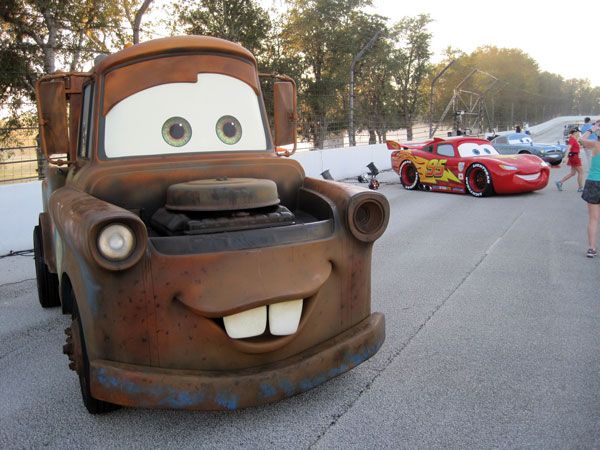 Miles 9-11 took place on Floridian Way, and I was surprised that once I completed Mile 10, my knee was still in one piece. Mile 12 took us into the Animal Kingdom, and it was there I finally got my first cramp. In fact it was just as I was passing Expedition Everest. My right quad (just above the infamous knee) started to lock up, so I tried to simultaneously massage it and run. It worked, kinda, so I kept going. After exiting Animal Kingdom, and passing the throng of tourists waiting for a running lane to open so they could enter the park,
both
my right quad and hamstring locked up. I tried to keep running, but my whole right leg was stiff, like a mannequin leg. It must have looked pretty funny. I wanted to employ my infamous "punching technique," which cured my hamstring cramp during the
Great Wine and Dine Half of '11
. There were too many people watching, however, and I didn't want to make any small children cry. After turning the corner, I instituted my patented cure, and began running with two legs again.
Ain't nothin' like the great outdoors, to ease your sores!
#LimitedTimeMagic
I "ran" into my friend Katherine on the course!
Forget Joey Fatone - we had Richard Simmons doing the race
Miles 14-16 went along Osceola Parkway. We then turned south onto Victory Way, and into the ESPN complex. The course wound us through what seemed like a maze, so much so that by the time we exited, we had covered three full miles. Towards the end of that stretch I had begun to slowly lose steam. And then I saw it. The huge "surprise" at Mile 20, which from what I could tell was basically Mickey, Donald, and Goofy on a platform. Before I could even decide if I felt the surprise was cool or not, my body had an urgent email for me. "Dear Keith. STOP RUNNING. NOW."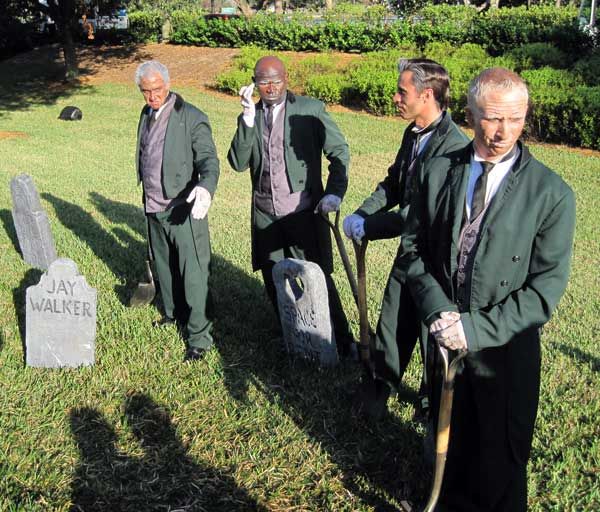 I felt like they were there to dig MY grave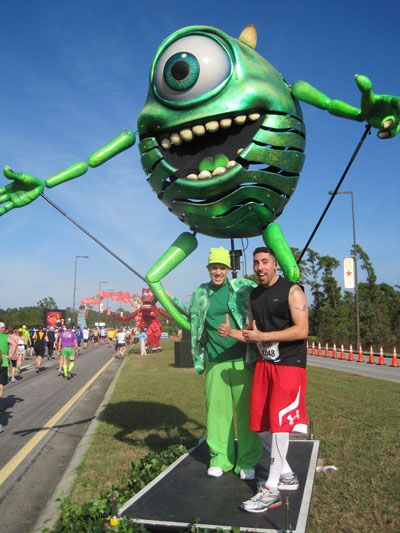 Mike Wazowski at Mile 20
I was done. I mean, this was already about seven miles more than I had ever run in my life, and 10 more than I had accomplished during training. I was still able to walk, however, so that's what I did. Every time I tried to run, my body stopped me. I started dealing with the very real possibility that I would have to walk the remainder of the race. I was disappointed at the notion, but at least it would allow me to achieve my goal: I just wanted to finish. And at that point my goal was amended to include: I just wanted to finish, alive.
Warning: this is going to be the cheesiest paragraph you'll ever read: So, something happened around Mile 21 or so, near Hollywood Studios. All race I had gotten a kick out of many of the signs being held up for the runners. "Worst Parade Ever." The inspirational ones were cool too. "I'm proud of you, total stranger." But I swear to you, this could not have happened any better. Again, it is completely cheesy, but even now I am getting goosebumps as I type this, recalling the scene. I saw a sign being held up by a woman, and it said something to the effect of: "
When your feet and legs no longer work, run with your heart
." I really liked that. Seconds, and I mean
seconds
later, "Gonna Fly Now," the theme song from
Rocky
, began playing on my iPod. This is not a joke. And you know what? I ran.
Hey, I warned you.
Was it a full-on sprint? God no. But I did pick up my pace, and actually managed to mostly run for the remainder of the race. After weaving throughout Disney's Hollywood Studios, the finish seemed within my grasp. People were waiting to enter the park, and even they were cheering for us. For those of you who have never run a race before, that really helps. The course took us along Crescent Lake, towards the Yacht and Beach Club. It was just after Mile 24 that I saw Deb from
allears.net
. She recognized me immediately and shouted, "It's my friend Keith!" through her microphone. I stopped for a hug and a photo, and when she asked me how I was doing, I think I just said, "Tired." I trudged on, knowing I only had about two miles to go. Patrick had texted me, letting me know he and Cathy were hanging out near the International Gateway (the rear entrance to Epcot). Patrick, racer extraordinaire, had already finished. And showered. And consumed a meal. And probably caught a film in Downtown Disney. I hate you, Patrick.
Just kidding. Pat is awesome. They took this photo of me.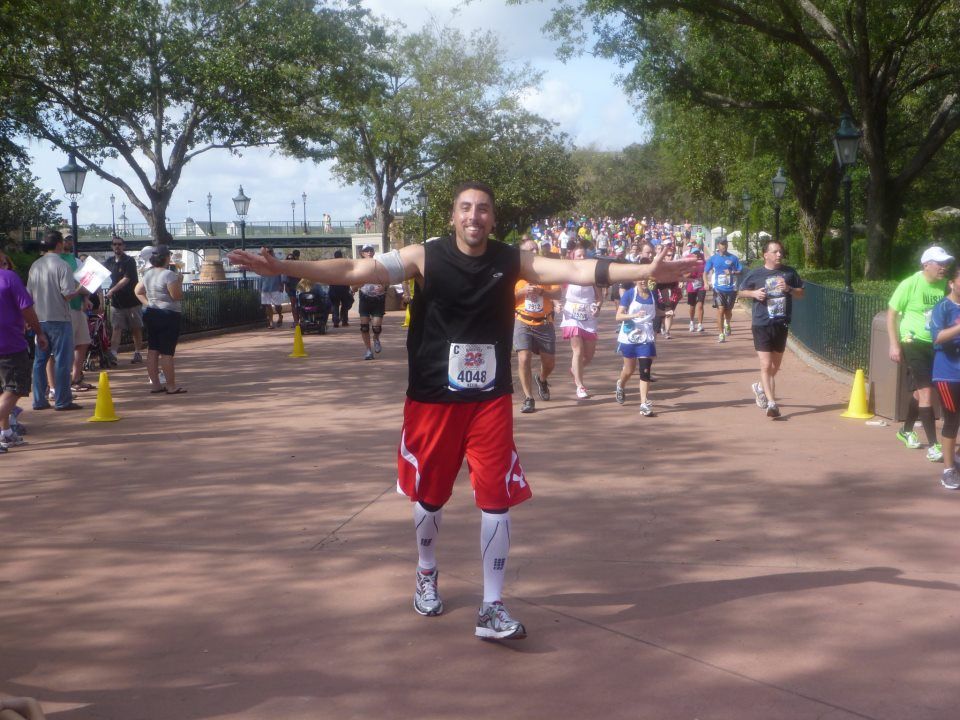 We entered Epcot between Canada and the United Kingdom, and turned right. I believe the Mile 25 marker was in France, and that's when I realized that I was actually going to finish this race.
SO CLOSE to the end
At that point I pretty much summoned any quantum of energy my body had left. My legs were done. I mean, they were done. But I was running with my heart. Sure it was a
slow
run, but a run nonetheless. I think to give myself some juice I scrolled back to the
Rocky
theme as I exited Epcot. And then, I saw...
The FINISH line.
I began to pump my fist. I didn't know what I should do to commemorate the moment. So as I crossed the FINISH line, I began to hop like a football player coming out of the tunnel. I hopped, I hollered, I pumped my fist. I was deliriously happy. Or maybe I was just delirious. But I finished. As the girl with the medal was about to put that beautiful piece of race bling on me, I asked her to hold it up first so I could take a picture of it. I don't know why, but here it is.
"Care for a medal?"
After I ate a few bananas and drank a few Powerades, I began the long walk back to my hotel. I was staying at the Boardwalk, which is located about 5 minutes from the rear entrance/exit of Epcot. To get from the front of Epcot to the back is normally about 20 minutes. So, 25 minutes till I get to shower, right? Wrong. That walk took me over an hour.
Happy
Patrick and Cathy were waiting for me in the room. I took what may have been the best shower I ever had, changed, put my medal back on, and headed to the Magic Kingdom with my friends. And, I may have sneaked in a catnap on the bus ride there.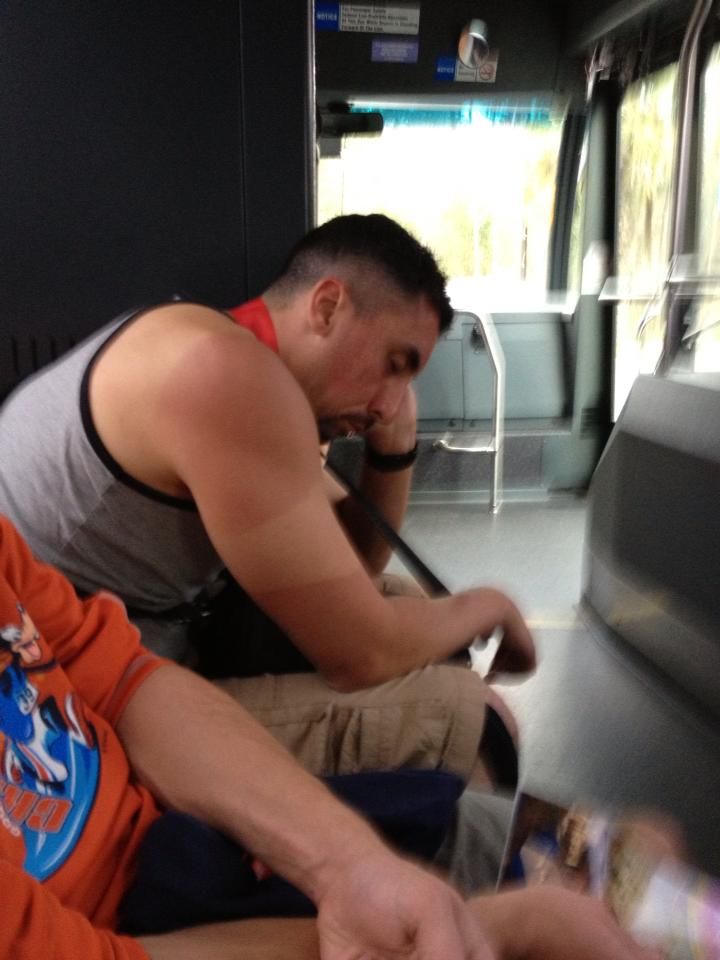 Like that tan line? I know you do.
That night Pat and I enjoyed the best hamburger either of us had ever consumed on Disney property (the Grand Floridian Burger), and I got to ride the Carousel of Progress, my favorite ride of all time. All in all, I have to say, it was a pretty good day.
I believe this is the longest recap I've ever written, but I can't bring myself to trim any of it out. It is all from my heart. Thanks to all my friends who helped me out in one way or another. Jeff and George from
Communicore Weekly
: thanks for the wonderful podcast you guys do. A few episodes kept me entertained during parts of the race. Lady with the "heart" sign: I owe you, big time. Dan,
Jenn
, Katherine: you guys were awesome to tell me I could do it, even if you really thought I was doomed. Danielle: thanks for waiting until
after
the race to tell me that you actually
did
think I was doomed, haha. Thank you
Jennifer
for the pre-race well wishes. Cathy: thanks for being my roomie, and for cheering me on during Mile 24. And Patrick: you are the man, sir. You basically did everything right the entire trip, and I will always be grateful to you for helping me with
my first marathon
.