For the fourth and final topic of "Walt's Main Street," I want to talk about a little hideaway that sits on top of the Fire Station in Town Square. In preparing for this specific portion of the tour, I was fortunate enough to be able to converse directly with Diane Disney Miller. She shared some wonderful stories with me, which I was delighted to share with the tour group, and will happily share with you now.
Part Four

Home Away From Home
It's no secret that during the creation of Disneyland, Walt had a private apartment constructed so he could spend more time at the park. And to cut down on his commute from the Studios in Burbank, he even had a heliport added to the property, which initially was located in the parking lot behind Tomorrowland.
After Disneyland opened, if the lamp in the apartment's front window was on, it let cast members know that Walt was in the park. It is perpetually on now to symbolize that Walt's spirit is
always
there. When Walt was around, however, there was one other tip that let cast members know he was in the apartment: the doors to the Fire Station would be closed. Walt was up there to rest or to work. It was hard to do either with kids constantly ringing the bell downstairs, or shaking the fire pole (which for a while was not blocked off).
Disney's Academy Award-winning set decorator Emile Kuri beautifully decorated the apartment in the Victorian style. In addition to supervising the decoration of Disney's groundbreaking exhibits for the 1964/65 New York World's Fair, Kuri took home the Oscar in 1955 for his art/set decoration on
20,000 Leagues Under the Sea
. Walt added some of his own touches with items he had picked up in antique shops all over the world. A beautiful phonograph could be found close to the front door, complete with a charming green hood adorned in Morning Glories. On the other side of the apartment, there was a late 19th century music box from the Regina Music Box Company. Both antique music players were fully functional.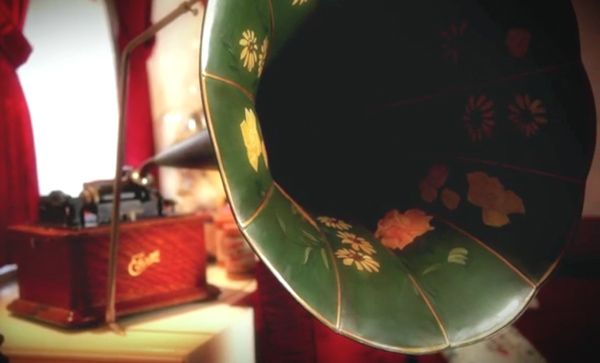 Edison phonograph
The tiny apartment had a bathroom, a kitchenette, a small changing room, and couches that folded out into beds. In the kitchenette you could find things like baby bottles for the grandkids, cans of chili, and a sandwich grill so Walt could whip up a quick grilled cheese. There was (and still is) a terrace outside, which was also decorated by Kuri. Walt and his family would enjoy buffet lunches out there, and often watch the parades.
During the latest episode of
Coffee with Kurtti
, Jeff Kurtti told a story about how one early morning on Main Street, some workers saw a man sauntering down the street in his pajamas, bathrobe and slippers. That man was Walt Disney. As Walt approached the workers, he informed them that he had the keys to the Sunkist Citrus House, and invited them in for orange juice. I asked Diane if she had heard that specific story. "No I hadn't," she replied. "But that sounds just like Dad."


Chat with Diane
One day the family was together in the apartment, and Walt saw Fess Parker and Buddy Ebsen out on Main Street. He yelled down to them through the window, "Hey come on up!" When they were in the apartment he showed them the pole, and dared them both to slide down it. They accepted Walt's challenge, and everyone got a kick out of it. I asked Diane if Walt ever slid down it, and she replied, "No." I then asked if she ever used the pole, and she did not. In fact she stated she only ever saw Parker and Ebsen use it.
I had heard the story about the sounds of the Jungle Cruise being audible from the apartment a few times before, but I have to admit, when Diane told it to me, I still chuckled. "Ron and I spent the night there once with the kids. The apartment is on top of the firehouse, and right on the other side is where the jungle ride is. And they don't disconnect the sound. So all night long you heard the natives going 'Ah-ahh-ahhhh!' You hear the gunshot, the hippo, you know. And the sound goes on periodically all night long." At that point I was chuckling, but she pressed on. "It was not a peaceful night."
With one of my favorite filmmakers, Jerry Rees, in front of Walt's apartment.
The red arrow indicates where the Jungle Cruise is in relation to it.
Diane also reminisced about the times they watched parades together as a family from the apartment's terrace. "Those were very personal things," she said. "I think the thing that is important is, that was their [Walt and Lillie's] spot. They spent a lot of time there. He loved to get up early and walk the park, before anybody was there. And as soon as the Aunt Jemima Pancake House opened, he would go and have pancakes there."
Before our chat ended, Diane shared one last memory with me. "Every afternoon when the sun was going down, the Disneyland Band would come down Main Street and gather around the flagpole, and play some very patriotic music as they lowered the flag. Dad loved that," she said. "He would get very emotional when he watched that happen. The American flag meant a lot to him."
Stories like Walt with the early morning workers, and family gatherings in the apartment, always make me smile. I love pretty much all of the Disney parks, but Disneyland will always have a special place in my heart, because it still has Walt's fingerprints all over it. I hope you enjoyed reading about "Walt's Main Street" as much as I enjoyed sharing it with you.
I'd also like to add that a lot of the furniture from Walt's apartment can be seen in person at the
Walt Disney Family Museum
in San Francisco. If you're ever in the Bay Area, definitely consider paying us a visit.
But before we go, please say hi to my final group during the Yesterland Tour, the enchanting Group B!