In
part two
of the "Walt's Main Street" series, I wrote, "In Walt's day, Main Street was home to several places we still know today." And I meant it! So, let's talk about a few of them.
Walt's Main Street
Part Three: Still Around Today
At over 4,000 square feet, the Emporium is easily the largest retail establishment in all of Disneyland. The shopping mainstay has been in the same location since opening day. Besides being Disneyland's largest shop, it's also the most cherished. Not only has it withstood the test of time, it has also showcased a few stories for us. In 1969, Disneyland featured Peter Pan dioramas in some of the Emporium's windows to promote the film's impending re-release. Little did they know then that a tradition was born, and throughout the decades scenes from many of Disney's animated classics have been recreated with charming detail.
Main Street Cinema, which also opened with the park, didn't always show cartoons as it does today. For about its first 30 years, it featured films from the silent era, some dating back to film's earliest days. In the 1980s, the format was changed to showcase early Disney animation instead, and Mickey's most famous animated short became the new headliner.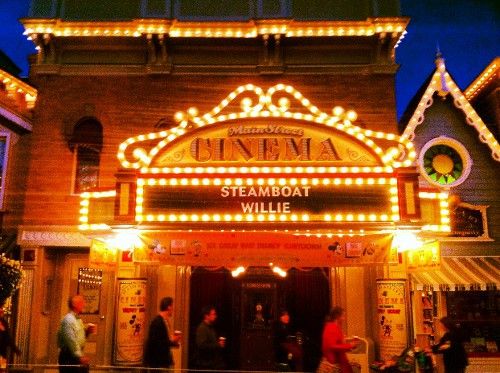 The Main Street Magic Shop did not open with the park, but was very much around with Walt, debuting on Main Street in 1957. When it did open, it was not Disneyland's only house of sorcery. Merlin's Magic Shop, which
did
open with the park, was located over in Fantasyland (it closed in 1983). While it's true that Steve Martin famously worked in the Magic Shop on Main Street, the fact is he actually split time between both locations. The Magic Shop has long been considered a Main Street staple, with its amusing products and its dazzling marquee.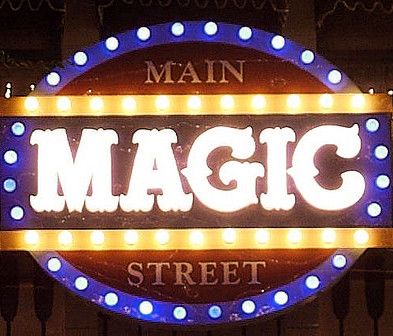 In
part one
of this series, we learned that the building that houses the Refreshment Corner (formerly the Coca-Cola Refreshment Corner) in Disneyland was inspired by Marceline's own Zurcher Building. What we didn't learn was that when the building was outlined in alternating red and white bulbs, they ended up with an odd number of bulbs, which meant there would have to be two whites in a row (or two reds). Walt wouldn't let that happen of course, so a half white, half red bulb was created.
The Refreshment Corner has been around since day one, and is possibly best known for being the longtime host to Rod Miller, the amazingly talented ragtime piano player. Rod himself retired a few years ago, but ragtime piano can still be enjoyed in that location. And Rod's talents can still also be enjoyed these days, if you know where to look. I ran into him at the Walt Disney Family Museum in 2011, and he was gracious enough to play "Great Big Beautiful Tomorrow" for me. What's amazing about Rod is he doesn't read sheet music. He just uses his ear.
It's hard to picture Disneyland's Main Street, especially at night, and not see the Penny Arcade's brilliant façade enticing you to part with your copper change. Like most of the aforementioned locations, the Penny Arcade opened on July 17, 1955. And for its first seven years, it was home to Disneyland's first shooting gallery; only this one didn't operate via infrared like the Frontierland one we know today. Guests fired real live .22-caliber weapons at both moving and stationary targets. Patrons into less explosive entertainment could (and still can) choose from a variety of mechanized parlor games, such as: watching a hand-cranked silent film, testing their grip against Uncle Sam, or finding how much pain they can tolerate in
Electricity is Life
, where brave souls grasp two metal handles and hold on as the electricity level slowly increases. The popular fortune-telling machine featuring Esmeralda is still prominently featured at the arcade's entrance, and in the back you can still find the wood and brass musical Orchestron, which Walt purchased in Germany before Disneyland even opened.
While no one can say which Disneyland establishments will never be replaced, it's hard to imagine a Main Street without any of the stores mentioned above!
And here we have the fantastic Group A from the Yesterland Tour.
Stay tuned for the fourth and final installment of Walt's Main Street, as we learn a few little-known facts about Walt's apartment from Diane Disney Miller herself.